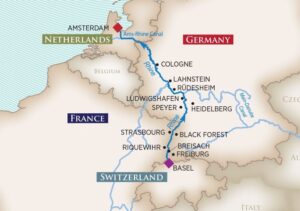 River cruising has become the ideal vacation choice, and for good reason! When you book an AmaWaterways river cruise with Mystical Dream Travel it will take the stress out of planning, allow you to escape the fast-paced flow of life, and enable you to immerse yourself in the experience of a lifetime. With river cruising you are able to explore multiple countries in a week, and you only unpack once!  They say "Ama" means family, and that is how you will be treated onboard an AmaWaterways ship.  The crew goes above and beyond to ensure you have the experience you desire.
When it comes to a first-time cruise with AmaWaterways, I highly recommend the Enchanting Rhine itinerary.  Why do I suggest the Rhine River as a good first time experience?  Here are some things I like to consider when planning a river cruise-
Destination
Desired Activities
Value
Destination– Europe has some of the most navigable rivers on the planet.  The reason being they are manmade canals that have been used for centuries to transport goods and services.  These ports are easily accessible and the views are incredible.  On the Rhine you experience a unique blend of magnificent cities and charming villages.  The riverbanks themselves are dotted with 40 enchanting castles.  Every moment counts when cruising down the Rhine
Activities– What are some of your "must sees" while traveling, and how active or leisurely would you like your trip to be?  AmaWaterways has perfected the solution to "what to do" on your trip.   Everything is planned and all you have to do is choose.  You can bike through the countryside one day and wine taste the next.  Each destination has multiple options for you to choose from so planning a European vacation is as simple as checking a box.  Personally I love this perk because Ama has opened my eyes to activities that I wouldn't think of on my own.  For instance, a guided bike tour through the fairytale town of Strasbourg, France?  Yes, please!  .
Value– The word "value" is often conflated to mean- the cost of the vacation. Value encompasses everything you are getting for your money.  There is exceptional value in a European River cruise.  Four different countries are accessible from the Rhine- France, Germany, Netherlands and Switzerland.  It would take an extensive amount of transfers, travel and money just to get to these four countries on your own, let alone planning what to do when you arrive.  With AmaWaterways the onboard experience is of high value with wellness activities, a sundeck pool and daily entertainment included.  In addition, AmaWaterways puts value on quality ingredients and high- level cuisine while onboard.  For example, every guest is able to reserve a spot at their chef's table; where you can watch a meal prepared specifically for you from a reputable chef.  This is at no extra cost.  All food, soft drinks, wine and beer are included!
Let's look at the itinerary for the Enchanting Rhine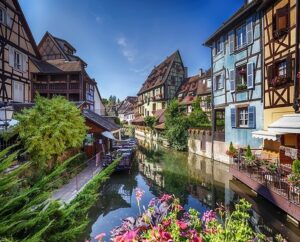 BASEL to AMSTERDAM
 DAY 1– Board the ship and Embark from Basel, Switzerland
DAY 2– Breisach, Germany:  Breisach offers several different excursions.  Take a walking tour of Riquewihr, a town that looks almost the same today as it did in the 16th century.  For those looking for a more active excursion, cycle through the countryside or hike through the Black Forest.
DAY 3– Strasbourg, France: Strasbourg is the capital city of Alsace and offers flavors of both France and Germany because of its borderline location.  Here you will walk the historic "Le petit France" district, which looks like it has been taken directly from the books of a fairytale.  My Disney enthusiasts will love this one!
DAY 4– Ludwigshafen, Germany: On this day you will have the choice of hiking The Philosophers Path to be rewarded with enchanting views of the city.  Alternatively you can ride along the river Neckar to the medieval town of Ladenburg where you will have free time to shop in the marketplace.
DAY 5– Rudesheim- Rhine Gorge: Hike through Rudesheim vineyards and enjoy samplings of Riesling wine.  Later you will cruise up the Rhine Gorge to take a tour of Lahneck Castle
DAY 6– Cologne, Germany: Home to one of Germany's most revered Gothic masterpieces, the Cologne Cathedral.  Take a guided tour through enchanting old town, or visit a local tavern to taste Kolsch beer and try potato pancakes with applesauce. Yum!
DAY 7– Amsterdam, The Netherlands: Cruise the famous canals of Amsterdam and taste Dutch specialties at the Grand Amsterdam Café.
DAY 8– Disembarkation in Amsterdam and prepare for your homeward flight.
*Note this is just a sample itinerary for the 7-day cruise.  There are several options at each port or you may choose to simply explore on your own.  Staff members are happy to provide suggestions for your day if you'd prefer to explore alone. In addition, AmaWaterways offers pre and post cruise land packages on this itinerary for those wanting to extend the magic.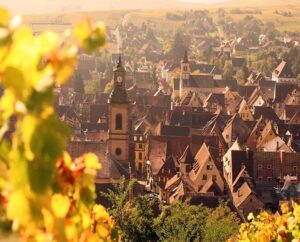 And for my families wanting to experience this with their children Ama has partnered with Disney to bring this unique experience to kids of all ages.  Your family will be designated 2 of your own personal adventure guides that will curate activities to engage with you and your young adventurers.   Your family can experience the Rhine, and other unique itineraries when you ask one of our agents about Adventures by Disney!
The last thing to think about… what are you waiting for?!!!  Contact one of our agents to start planning the adventure of a lifetime!