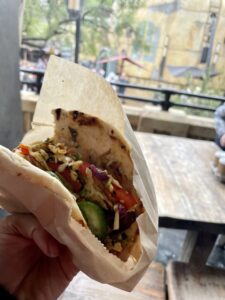 One of the main things we look forward to when visiting Disneyland (aside from the rides of course) is the food!  Just saying the word "Disneyland" sparks cravings for nostalgic treats like churros, beignets and corndogs galore.  We all have our classic Disney snack that we can't leave the parks without having, but there's so much more to the culinary experience at Disneyland than a corndog.   From quick service snacks, to sit down meals and even delectable desserts I'm here to talk about my five favorite "Disneyland eats".  It's really hard to narrow it down to a top five but alas, we can't be here all day, so here it goes-
#1 RONTO WRAPS– Ronto Roasters is located in Galaxy's Edge, and these little wraps might be my favorite quick service option in the park.  I am vegetarian so my go-to at this location is the "Ronto-less Garden Wrap".  The pita is so soft and it's packed with a spicy kimchi slaw, pickled cucumbers and a delicious plant based sauce.  It is filling without being too heavy making this the perfect recharge snack when you're on the go and having a busy day in the parks.
Pro-tip: Grab one of these babies before for standing in that long Rise of the Resistance queue.  It will make that wait fly by!
#2 BENGAL RICE PLATE– My next favorite item is also in the "quick service" category and is one of the few if not only "healthy-ish" items you can get in the park.  Bengal Barbeque can be found in Adventureland right across from the entrance to the Indiana Jones attraction.  This restaurant specializes in chicken, beef, pork belly and vegetable skewers.  The Bengal Rice Plate comes with 2 skewers of your choosing, rice and a citrus-miso slaw.   The skewers are so fresh, packed with flavor and delicious.  I was shocked at the quality they were able to maintain with this being a quick service meal.  If you do not want a sit down meal skip the plate, and opt for a single skewer instead!
#3 JOLLY HOLIDAY COMBO– Jolly Holiday Café is known for its pastries and sweet treats, but they have some amazing lunch items as well.  My absolute favorite is the Toasted Cheese Sandwich and Tomato Basil Soup.  This classic combo combined with the nostalgia of Disney is the ultimate feel good meal- great for the kiddos but also satisfying for the adults.  If you want to take this combo to the next level order the Birria Toasted Cheese Sandwich and be prepared to have your taste buds rocked (you might also need a nap after).  I highly recommend guests use the Mobile Order function on their Disneyland App at this location, as the line is always long.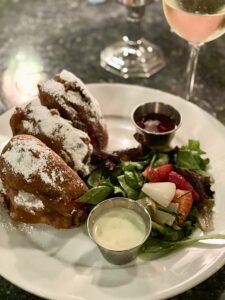 #4 MONTE CRISTO SANDWICH– you may have heard of this little delicacy, as it's a Disneyland staple.  You can find this beauty in Café Orleans or Blue Bayou (served during lunch only at this location).  Both restaurants are located in New Orleans Square between the Pirates of the Caribbean and the Haunted Mansion attractions.   The Monte Cristo is like if a doughnut and a decadent ham and cheese sandwich had a baby.  It.  Is.  Delish!!!  If you order this at Café Orleans, it comes with a side of jelly for dipping, and pomme frites with a decadent aioli. For my fellow non-meat eaters, Café Orleans has a Triple Cheese version of this sandwich.  If you don't try anything else on this list, try this!  You'll thank me later.
#5 CHURRO TOFFEE–   Even after consuming all the food Disneyland has to offer there's always room for dessert… right?!  Well if the dessert is Churro Toffee the answer is YES!   The treat is essentially this: squares of toffee topped with cinnamon sugar, wrapped in white chocolate and topped with more cinnamon sugar- yuummummm!  If you're visiting the parks in California this is a must try because it can only be found here!  In Disneyland specifically, you can  grab this treat at Candy Palace on Main Street and Pooh Corner in Critter Country, but there are locations in Downtown Disney and California Adventure that carry it as well- it's just that good!  Grab as many of the squares as you can because they travel well and make very good gifts.
What do you think?! Did this inspire you to try something new on your next park visit?  Disneyland has such great food, I could have probably listed 20 more items at least!   The food offerings are constantly evolving and changing seasonally at Disneyland, so there's always something new and delicious to try.  Any Mystical Dream Travel Advisor would be happy to give you a current list of recommendations, and help you with dining reservations when you're ready to take your next Disney vacation!