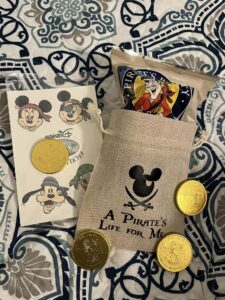 If you have ever been on a Disney Cruise, or are in the middle of planning your first one, you have probably heard something about fish extenders. But what exactly are they? Who are they for and how do you get one? Well I am here to demystify all things surrounding fish extenders and give you the inside scoop on how to get one of your own!
HISTORY
First, a little history about how the fish extender thing got started and why it has such a funny name. Many years ago, a group of Disney Cruise fans created an online community to meet one another, share tips, and just chat about the joy of Disney cruises. They wanted to create a way to share fun little surprises with each other when they were on the same sailing so they came up with the idea of hanging little gifts on the stateroom doors.
Now here is where the term "fish extender" comes in. See, outside most of the Disney Cruise ships are these fish shaped clips. The fish clips are there so the ship staff can leave notes to the guest for things like a Palo dinner reservation, or special invitation, or less fun – your bill. These fish clips were the perfect place for the Disney Cruise fans to leave their little surprises. But soon it became apparent that something was needed to hold all of these little surprises, so people began making little bags or pockets they could hang from the fish clip, therefore extending it's ability to hold more little gifts. And thus, the fish extender was born!
Side note – the newer ships still have clips outside the stateroom door, but they are no longer fish shaped.
HOW DOES IT WORK
Now that you  know the background of where fish extenders started, let's go over how they work and how you can be involved! Prior to the cruise, people who are sailing will connect either online in a group forum (such as Disboards.com) or through a private Facebook group. To find a Facebook group for your cruise, just search for your ship name and sailing date and chances are one has already been created. If one has not been created yet, feel free to start one yourself!
Once you have met some others on your cruise, look for a discussion about fish extender groups. Or don't be shy and ask if anyone has started one! Usually, due to how many people are interested in fish extenders, there will be several groups so each group has a reasonable number of people in it. This is because when you join a group you are agreeing to bring a small gift for each stateroom that is in your group. So it is nice if the group size is not too huge since that can start to add up to a lot of little gifts to bring!
Usually there will be a group organizer who collects everyone's names and stateroom number. They will note how many people are staying in each stateroom and, for kids, what their ages are. They may also note if anyone is celebrating something special like a birthday or anniversary. Sometimes each person is assigned a particular day that they are supposed to deliver their gift. This is to try and spread it out a bit so not everyone delivers their gifts at the same time.
WHAT TYPES OF GIFTS TO BRING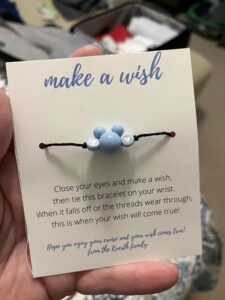 There are several different approaches people take for choosing what gifts to bring for their group. Some people will bring a gift for the entire stateroom, while others may bring a gift for each person in the stateroom. Others may take it even further by personalizing a gift for each person in a stateroom, or gathering information like favorite characters and theming their gifts around that. You have to agree to bring at least one gift on one day of the cruise, but many choose to bring more than one gift and deliver more than one day. It is really up to you how much and how elaborate you want to be about it!
Gifts should be small, something that can easily fit into a small pouch or pocket. Some gifts may be practical, like a laundry detergent pod and dryer sheets. While other gifts are purely for fun, like pins or toys. Some may choose to stick to a Disney theme but this is not necessary. I have received many fun fish extender gifts that were not Disney themed at all. Gifts can be handmade or they may be store bought. You can find lots of ideas for fish extender gifts on websites like Pinterst and Etsy. Just search for "Disney cruise fish extender" and you will have hours of ideas to look through!
Here is a list of sample gifts I have received or given myself; bubbles, stickers, Disney pins, friendship bracelets, laundry bag, mini first aid kit, small plushies, candy, Christmas ornament, mini bottle with lights in it, magnet, Mickey shaped card holder, and pirate gold coins.
WHERE TO GET A FISH EXTENDER
A lot of people choose to make their own fish extender, and that is how it got started. The first ones were just bags with a string hung from the fish clip, but they evolved over the years to include more elaborate arrays of pockets and pouches. They can be as simple as a drawstring bag or little tote bags clipped together. I have even seen some people use hanging closet organizers. Some people sew their own and customize it with their names. There are a lot of tutorials online for DIY fish extender options. Search on Pinterest or YouTube for some easy and simple ideas.
Now, if you are like me, you want something cool and personalized but you don't have the skill or time necessary to make something yourself. That is where my favorite website of all time comes in – Etsy. There are so many fish extenders for sale on Etsy it can make your head spin! Customize yours with different colors, themes, your family name or even each person's first name. There is an option that is perfect for everyone!
Side note – Etsy is a great place to find all kinds of things you didn't know you needed for your Disney Cruise. Like matching t-shirts, tumblers, deck finders, magnets, ears…
I hope this guide helped you understand what fish extenders are all about and you are inspired to join a fish extender group on your next Disney Cruise! I promise you, once you do it you will be hooked!   To learn more about Disney Cruise Line contact your Mystical Dream Travel Advisor today!