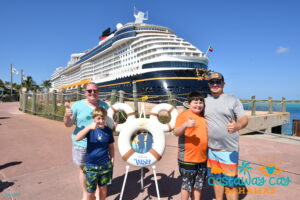 Castaway Cay is the perfect paradise to visit during your Disney Cruise vacation. There is nothing better than waking up to the view of the island's picture perfect beach and gorgeous blue water from your stateroom balcony. (Pro tip – choose a stateroom on the starboard side to get a view of Castaway Cay when the ship is docked there.) The island has activities and delights for all ages, but a large portion of the island is dedicated for kid friendly fun. I mean this is a Disney cruise after all!
Here are 5 must do kid favorites at Castaway Cay…
Rent Bicycles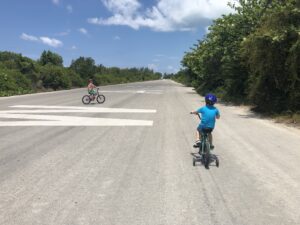 Located near the Family Beach area is a bicycle rental stand. You can pre-book bike rentals, but you can also do walk up rentals. There are usually always bikes available and they even have ones with training wheels for younger kids! This is an activity that my family always does when we visit Castaway Cay and is often mentioned as a favorite memory. You can bike an easy path through the mangroves and down the runway road. One path will take you out to an observation tower where you can get a great view of the island, and another path takes you out to a sandy overlook. Both paths are lovely and easy rides. I love that there are water coolers and cups at stations throughout the paths so you never get dehydrated.
Pelican Plunge
This floating play structure is positioned in a roped off area just off the Family Beach and is a favorite for kids and adults alike! Wade out and climb up the stairs to take one of two waterslides back down to the clear water. It is kind of a rite of passage for kids when they get to a certain age to take a ride down Pelican Plunge! The line can get long as the day goes on, so get there early or plan to hit it up at the end of the day to avoid crowds. If you are traveling to Disney's Castaway Cay with younger ones, there is also Spring-A-Leak, a splash pad that is perfect for toddlers located near the bike rentals.
Scuttle's Cove
What could be better than the kid's club on board the ship? The fact that the kid's club has a location off the ship too! There are supervised activities for kids ages 4-10 available all day long on Castaway Cay and while the kids have fun there, mom and dad can enjoy some adult-only time down at Serenity Bay. Located in Scuttle's Cove is Monstro's Point, a huge dig site for whale bones! One thing to note is that Scuttle's Cove is located away from the water and the counselors do not take the kids to the water. There is also a teen specific hangout called the Hideout.
Castaway Ray's Stingray Adventure
This is one of the most popular activities you can book on Castaway Cay and it is easy to see why. Your whole family can pet, feed, and snorkel with stingrays mere steps from getting off the cruise ship, and in some of the clearest, bluest water. This hour long, guided adventure includes feeding the stingrays right from your hand! It is the perfect excursion because it is located right in Castaway Cay so no need to travel anywhere and it does not take up too much of your day. (Pro tip: this is a very popular activity so I highly recommend booking it in advance to ensure you get a spot.)
Summertime Freeze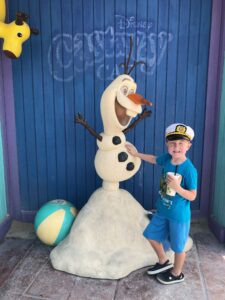 Spending all day on the beach can make you hot, so be sure to cool down at Olaf's Summertime Freeze drink stand, located between the two family beach areas. It features several fun, frozen drinks with fun flavors and names. You can even get some cute souvenir cups and snap a pic with Olaf while you are there! Be sure to check out the photos posted to the wall behind Olaf, which showcase his various adventures on the island.
However you choose to spend your day at Castaway Cay, it is sure to be a highlight of your Disney Cruise vacation! You will find yourself wanting to come back again to explore even more of this Bahamian paradise.
Ready to start planning your Disney Cruise vacation? Fill out our contact form to have a Mystical Dream Travel agent reach out to you to get started!