There are a lot of great Adult Only vacation options available to help you reconnect, celebrate a special occiasion, or even propose!  If you are planning an adult only getaway you can choose from  all-inclusive resorts or a cruise line that specializes in adult only getaways and helps sets the stage for romance!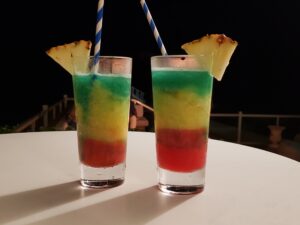 Here are my top 5 reasons to plan an Adult Only Getaway.
We'll start with the most obvious… Romance!  I can't think of anything more romantic than an Adult Only getaway to a tropical destination.  It is the perfect opportunity to reconnect with your significant other without the constant pressures of home, work, and for a lot of us, parenting.  Spending even a few nights enjoying each other's company at an Adult Only resort could be just what you need to re-kindle romance and fall in love all over again.  Adult Only vacations are also a great time to pop the question to that special someone in your life!
Bachelor or Bachelorette Party! Some Adult Only destinations are more romantic, while others are an adult playground with entertainment options not found on family friendly resorts.  They can feature everything from night clubs, live DJ's, comedy clubs and fun themed parties ranging from fashion shows to foam parties!  These destinations are great for Bachelor and Bachelorette parties or just fun friend getaways.
Girlfriends Getaway!  Grab your girlfriends and spend time at the Spa!  Spend some time with your besties getting relaxing massages, rejuvenating spa treatments, and perfect pedis and come home refreshed and feeling like a new you!
Dine like an adult! Indulge in gourmet dining and top-shelf drinks.  Is it just me or is eating and drinking a huge part of vacation?  Adult Only resorts don't need to include all of the child friendly offerings on the menu and can focus on more upscale and adventurous cuisine.  Plus, doesn't your margarita taste just that much better when you know you don't have to worry about what your kids are getting into?
Reconnect with the version of yourself that you were before kids!  Remember when you were young and carefree and actually had time for yourself?  An Adult Only vacation can help you do just that!  Vacationing with kids can be a fantastic experience, especially when you get to see the joy and excitement on your kids' faces, not to mention all of that great quality time that you are spending together.  But let's face it, it can be a lot of work!  On an Adult Only trip, you can focus on activities that make you happy, from exciting adventures to just lounging by the pool with an icy drink in your hand.
As you can see, there are many different reasons to plan an Adult Only getaway and there are even more destinations waiting to provide you with the experience that you are looking for.  So, what are you waiting for?  Start planning the Adult Only vacation of your dreams today by contact your Mystical Dream Travel Advisor!