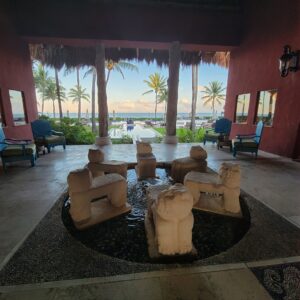 I recently spent five days in the Cancun area of Mexico touring nine resorts in the AMR Collection. I was really impressed with all of them but fell in love with the Zoetry Paraiso de la Bonita Riviera Maya. This 17 years in a row AAA Five Diamond award winning all-inclusive adult-only 99 all-ocean front suite resort is set on 14 acres overlooking the waters of Puerto Morelos National Marine Park! This resort definitely celebrates the "Art of Life," it is quaint, romantic, secluded, health-oriented, beautiful, and so much more!
One of the things that I fell in love with is the story of the resort. Going back in time, ancient Spaniards banished a beautiful princess to land outside of Cozumel. The Mayans, from all over the region, would travel great distances to see the beautiful princess in the land they named after her, Paraiso de la Bonita, Paradise of the Beautiful.
Many years later, a talented architect built this intimate resort on the land along the oceanfront paradise where the princess lived. The resort was dedicated to his wife, whom he called La Bonita. When the architect designed the original 90 ocean-front suites, he had each one of them named after and decorated from places where he and his wife traveled, showcasing their travel memories. I love that each suite has its own décor, flair, and style!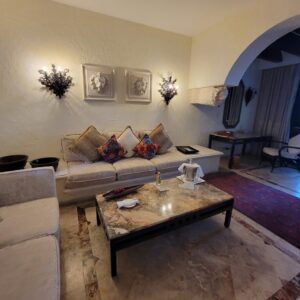 The suite I toured in this section was the Zanzibar Suite. This suite featured a spacious living area with marble floors, a king-sized bed, a huge bathroom with a double sink and beautiful sunken tub and separate shower. The beautiful terrace featured a plunge pool that had a gorgeous view of the beach and ocean. It also had a table for two, a cozy chaise lounge for two, and its own personal cabana. I could see a honeymoon couple staying here, a couple celebrating their love for each other or a couple just trying to get some together time away from their hectic lifestyles! There are two-bedroom suites that would be great for a girl's getaway with a group of friends! Book several of these suites and have a relaxing girls getaway while getting spoiled the whole time. These suites would be awesome for taking that special bride-to-be for her bachelorette get-a-way.
This resort not only features the original suites designed after different locations, but it has nine exclusive suites that are at the Impression Club Level. These nine suites have exquisite décor, plunge pools on the balcony or large secluded terrace, an outdoor shower, and a personal butler that caters to your every want and need. They also feature an intimate dining experience with a private chef! All Impression Club guests get access to a private seawater pool with wait service! These suites are perfect for honeymooners, celebrating anniversaries and just celebrating you! I could see a group of nine couples booking these nine suites and enjoying all the amenities that come along with them!
Zoetry Paraiso de la Bonita takes the all-inclusive experience to a different level with Endless Privileges. You get endless dining and drinks that include authentic, gourmet cuisine with organic ingredients and beverage selections; signature a la carte dining and 24-hour private in-suite dining! The drinks include limitless international and domestic top shelf liquors! Plus, have you ever heard of a resort that includes unlimited world-wide calling? Well, this one does! With your stay, you also get a 20-minute Thalasso seater experience, daily afternoon teatime with live plant infusions, and complementary greens fees at nearby golf courses!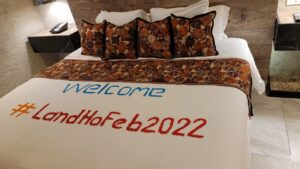 The personalized services to enhance your stay include a stylish VIP arrival, no check-in or check-out times (so you don't have to worry about what time your flight home leaves!), 24-hour concierge. 24-hour concierge, and maid service three times a day! They even refresh your in-suite mini-bar two times a day! You get a welcome bottle of tequila and a bottle of sparkling wine and fresh fruit daily.
For dining, Zoetry Paraiso de la Bonita features three a la carte restaurants, including the AAA Four Diamond restaurant La Canoa! There are two distinctive bars available for your enjoyment. If you stay in one of the Impression suites, you have access to two additional restaurants and another bar and lounge. We had dinner at La Canoa for Italian night. They had live entertainment featuring two gentleman playing guitars and singing Italian songs. It was beautiful, relaxing, and delicious! La Canoa even features Tequila and Mezcal tastings daily from 4:30 pm to 5:30 pm.
The resort also features two pools (one is freshwater, and one is a hydrotherapy heated saltwater pool). If you are staying at the Impression level, you also have access to the Impression Club seawater infinity pool. For an additional fee, you can go catamaran sailing, snorkeling, diving and more!
So, if you are looking for an all-inclusive get-a-way that would cover any reason from romance, health-oriented, secluded, intimate, excitement, beauty, relaxation, food and more, I suggest you try the Zoetry Paraiso de la Bonita!  To learn more about this beautiful resort contact us today!