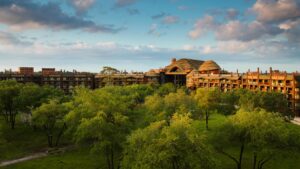 I know many people think that the Walt Disney World Resort is just a family destination. But with Valentine's Day right around the corner, I thought I would share ideas for a romantic getaway. Here are my top 5 romantic things to do at the Walt Disney World Resort:
Start by staying in one of Walt Disney World's Deluxe Resorts. For a romantic stay, I would look into a room at Disney's Animal with a Savanna View! I would also look into booking an overwater bungalow at Disney's Polynesian Villas and Bungalows or getting a room at Disney's Grand Floridian. How fun would it be to stay in one of the previous two resorts and be right on the monorail loop for the Magic Kingdom and have a quick ride to EPCOT? Don't forget about Disney's Yacht Club and Beach Club as well, they have beautiful rooms, great pools and are a quick jaunt away from the back gate at EPCOT!
Schedule a Capture Your Moment session in the Magic Kingdom! This is a personalized 20-minute photo session that captures photos of you two enjoying the fun and excitement of the park. You get to go to one location but get multiple pictures to choose from. If you book two back-to-back sessions (40 minutes) you can go to two different locations! You have the option of purchasing your favorite photos. Here's a little tip, if you purchase the Memory Maker, you can download your Capture Your Moment photos at no extra cost!
Book a romantic dinner at one of the many delicious restaurants located in any of the parks or Disney Springs! There are so many to choose from that you could eat at a different one every day of your stay. Some of recommendations would be California Grill located at the top of the Contemporary Resort. There you could savor the finest California cooking and take in the sights of the Seven Seas Lagoon and Magic Kingdom Park. One of my favorite restaurants is Le Cellier located in the Canadian Pavilion in EPCOT. The menu includes exquisite steaks such as the "Le Cellier" filet mignon and seafood specialties. For dessert, the maple crème brulee is amazing! Disney Springs has a lot to offer when it comes to romantic dining. You could have a meal at The Boathouse, Maria & Enzo's Ristorante, Morimoto Asia, or Terralina Crafted Italian, just to name a few. The great thing is that there are a ton of food options, in fact, so many that I know you could find a perfect romantic dinner for you and your loved one! I suggest making reservations in advance for your restaurant selections.
Make reservations for an intimate event for two, such as the Celebration at the Top: 50th Flavors & Fireworks at Disney's Contemporary Resort! This high-energy cocktail party features fine food, simmering sips, beautiful music, and a spectacular view of Disney Enchantment. Upon arrival, you can enjoy such culinary delights as sushi, small bites, favorite dishes from the California Grill menu, desserts and more! Adults can enjoy California wine, beers, and cordials from the complimentary bar. After you enjoy the show from the private observation deck and head back inside, you get treated to petit fours desserts, cordials, and coffee. Advanced reservations for these types of events are highly recommended.
What could be more romantic and relaxing than a couples spa treatment? Disney's Grand Floridian Spa offers a massage for two! Before your treatment, you can stop in the dressing room where you can slip into a cozy robe and slippers. Then you can spend time in a relaxation room that offers light refreshments and soothing music before you get your couple's massage. The massage is a personalized experience side-by-side with your loved one! I also recommend advanced reservations for the spa.
As quoted from Lady and the Tramp, "Side by side with your loved one, you'll find enchantment here. The night will weave its magic spell, when the one you love is near." I hope you take the opportunity to whisk your loved one away to the Walt Disney World Resort and let it weave its magic spell on your romantic getaway!