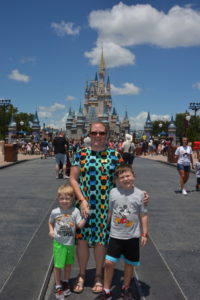 I am a work-at-home mom with two sons, ages 4 and 7 and our family loves to go on adventures both near and far and document them on our YouTube channel, Kuerth Kingdom.
We moved to Fort Mill, South Carolina three years ago from Vermont – mostly for warmer weather and to be closer to Walt Disney World!
I love to travel to experience new places, try new things, and share all of it with my children. Seeing things through their eyes when they discover something new is the best feeling.
I specialize in Disney vacations because I love everything Disney and it was a huge part of my childhood. With Disney Cruise Line, the theme parks, Aulani, and Adventures by Disney there are so many options to fit everyone's vacation dreams!
I have many favorite vacation memories, it is hard to choose just one! But if I had to it would be taking my husband and children to Magic Kingdom at Walt Disney World for the first time. I was giddy with excitement to show them all of my favorite attractions from my childhood and see them enjoy them for the first time.
I enjoy working with busy moms and dads who want to have amazing memories with their children but they find it hard to plan a vacation due to their limited time. I understand how busy life can get with kids, but you have to remember to take time out to just relax and enjoy each other! My services help relieve the burden of research and planning so you can focus on what is important. Nothing makes me happier than helping a family have a wonderful vacation experience and knowing that I helped make it happen.
Colleen@mysticaldreamtravel.com