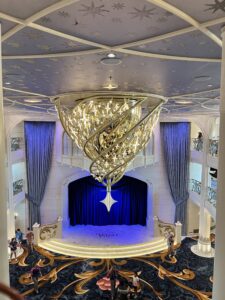 Disney Wish is the newest ship to join the Disney Cruise Line family. Disney has combined the beloved stories of Disney, Marvel, Star Wars, and Pixar to create an Enchanting experience at Sea. This Beautiful ship is now sailing to the Bahamas from Port Canaveral, and includes Disney's private island Castaway Cay.  There are itineraries that include Halloween on the High Seas, Very Merrytime, and the Silver Anniversary at Sea.  Celebrate Disney Cruise Line's 25th anniversary aboard the Disney Wish and be among the first to experience the enchantment.
My daughter and I had the pleasure of joining Tina, Mystical Dream Travel owner, and her daughter aboard the Disney Wish in July 2022 for the inaugural sailing. The newness, beauty, and the fun experiences around every turn were simply amazing.  The Grand Hall is elegant in every way, and I loved how every part of the ship embraces the Disney storytelling. There is so much to see and do that it's impossible to take it all in within the 3- or 4-night cruise.  I am happy that I will set sail again on the Disney Wish with my family this summer – to experience it all in a new way.
Here are my Top 5 Must-Dos and reasons why you should experience the Disney Wish:
Impeccable Dining
There are many food options onboard including Marceline Market, named for Walt Disney's childhood hometown. It has 10 food stations with indoor and outdoor seating.  The ever-changing menu has something delicious for everyone.  There are also themed food stations – Mickey & Friends Festival of Foods: Mickey's Smokestack Barbeque, Donald's Cantina, Daisy's Pizza Pies, Goofy's Grill and Minnie's Ice Cream. You can also enjoy an intimate dining experience at Palo Steakhouse, The Rose or Enchante by Chef Arnaud Lallement.
My favorite dining experience was Arendelle – A Frozen Dining Adventure – this was a dining adventure unlike any you will experience.  It is the world's first Frozen themed theatrical dining experience that transports you to the Kingdom of Arendelle.  Experience performances from Elsa, Anna, Kristoff, Olaf, Oaken, and talented musicians.  This is all takes place while being served Norwegian-inspired cuisine. The food was amazing and I loved the Frozen Fractals cocktail.
Worlds of Marvel – A Cinematic Dining Experience. This dining experience is interactive and allows you to join Ant Man and Wash during an "Avengers: Quantum Encounter.  Be a part of an action packed Avengers mission. You will enjoy this experience while dining with a menu inspired by Marvel Cinematic Universe – from classic All American to African flavors.  It was delicious and so entertaining.
1923 – this restaurant is named after the year The Walt Disney Studios was founded. This is a more quieter and intimate dining experience – more sophisticated.  There are drawings, props, sketches and beautiful artwork. The menu is full of tantalizing flavors from California.
Entertainment
I enjoyed the relaxing and fun vibe at Luna, an all new entertainment venue. It features family fun by day and elegant entertainment by night. You can enjoy live music, comedy acts and family game shows.
You will also not want to miss catching a movie in Wonderland Cinema or Never Land Cinema.  These are elegant and lush theatres inspired by Peter Pan and Alice in Wonderland.
Hero Zone – this is a great recreation space for families.  It offers action packed physical challenges, game show style competitions.  There are sports courts, game floor, playground and more.
Imaginative Youth Clubs – Disney Wish really created such amazing interactive spaces for kids, tweens, and teens.  If you are traveling with kids – they will not want to leave their youth club.  Each one is so unique and full of Disney Magic.  I will save the details of these clubs for another blog but will let you know what's onboard.  Marvel Super Hero Academy, Star Wars Cargo Bay, Walt Disney Imagineering Lab, Fairytale Hall. The Edge for tweens ages 11-14, Vibe for teens age 14-17, and for older teens and young adults The Hideaway is a space designed for them.
Aqua Mouse – The first Ever Disney attraction at Sea. You will join Mickey and Minnie on a water adventure in a cartoon inspired by Mickey Mouse animated shorts. You will glide up and around the ship through 760 ft twisting tubes with views of the ocean.  This is a must for children and adults.   If you prefer your water fun to be less adventurous – the Disney Wish has 10 pools and water play areas.
Broadway Style entertainment – The Broadway-Style shows are always my favorite on Disney Cruise Line. The Disney Wish did not disappoint and left everyone in awe with their theatrical adaptation of the beloved 1989 Disney animated film, The Little Mermaid. Other original shows include Disney Seas the Adventure – a great musical voyage with your favorite Disney characters and stories.  You won't want to miss Disney's Aladdin – A Musical Spectacular.
The Kiss Goodnight in Grand Hall – This is the perfect way to end your evening on the Disney Wish. The beautiful chandelier in Grand Hall becomes the centerpiece for a spectacular light show with your favorite moments of Cinderella – just before the clock strikes midnight.  This is a definite Must Do!
Are you ready to experience the Disney Wish and all its grandeur?  Reach out to Mystical Dream Travel to start planning your magical Disney Cruise Line vacation.  Join our Facebook group All Things Disney w/ Mystical Dream Travel to stay up to date with all things Disney.