Hey all, it's officially summer!  And that means vacation season is in full swing.  When it comes to a Disney vacation, summer is known to be one of the busiest times in the parks, and this year there is no exception, offering a ton of fresh experiences.  We got a jumpstart on the season a few weeks ago when I highlighted my top 5 must do's at Disneyland, and I'm back to fill in the blanks about the park across the way- California Adventure!  This park is extremely underrated in my opinion.  I could spend all day at California Adventure.  The park has my favorite food, my favorite attraction and some unique experiences that can only be found right here in Cali.  I'll be highlighting it all this blog as we talk about my top 5 "must do's" at California Adventure.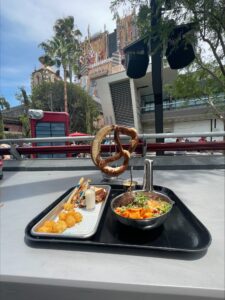 Speaking of unique experiences let's start with my #1 "must do" this summer- you MUST make time to visit Avengers Campus!  Across all the Disney parks this land is only in California Adventure, and it has some of the most interesting food offerings as well as some of the most immersive character interactions.  Avenger's Campus does have a couple of ride attractions, but to me, this park shines if you can slow down and spend some time taking in your surroundings.  I recommend my clients plan for a long lunch in this land, so they can take advantage of seeing as many characters and mini-shows as possible.  Grab lunch at Pym's Test Kitchen and if you can, snag a table on the edge of the patio so you have a front row seat to the characters as they walk by and some of the shows in the building across the way.  If you're moving and grooving and only have time for a quick walkthrough on the way to Guardians of the Galaxy- Mission Breakout, then grab a quick pita from Schwarma Palace!
All this food talk brings me to my #2 "must do" in California Adventure, and that is… grabbing a reservation for a meal at Lamplight Lounge! Not making time for a sit-down meal during your Disney day is a missed opportunity.   Not only does Disney curate some great dining experiences, a longer meal allows you to relax and take in your surroundings. As theme park guests we can get hung up on trying to get as much done in a day as possible, but the real Disney magic is in sitting back and taking in the details.  My suggestion is to make a reservation for dinner, ask to sit on the patio and enjoy your meal with gorgeous views of Pixar Pier all lit up.   You cannot go wrong with any of the food on this menu, but my personal fave are the lobster nachos.  If you're in the parks on a weekend try to snag an elusive brunch reservation.  Psst- get the "Indulgent French Toast" to share with the table, you'll thank me later.
For my #3 "must do" I am highlighting the nighttime spectacular, World of Color- One. In my last post we talked about all the new experiences that have been curated to celebrate Disney's 100 Years of Wonder Celebration, and this is California Adventure's homage to that.  It is the first show to feature music and moments from Walt Disney Animation Studios, Pixar Animation, Marvel and Star Wars in the same production. World of Color has always held a special place in my heart.  The water effects are mesmerizing and the show is the perfect way to wrap up a day at California Adventure.  If you're looking to make it extra special, book the World of Color dessert package!  You get a delicious assortment of desserts and cheeses, 2 beverages (alcohol for adults) and prime seating without having to battle crowds and lines.  That last part alone makes it worth it.
Moving on to my #4 "must do"- please DO NOT leave this park without riding the Incredicoaster! And if you haven't guessed, yes, this is my favorite attraction.  It does such a great job of storytelling while still giving you that thrill.  Pixar Pier in general is such a good vibe.  Especially at night!  And now you can ride the Incredicoaster and other Pixar Pier attractions during World of Color.  Up until recently Disney has closed a lot of these attractions during World of Color performances.  I always get off this ride with a huge smile on my face, and on more than one occasion the group I've been with wants to ride it again.  If you find yourself wanting another go around, try it once during the day and once at night, then tell me what you like better!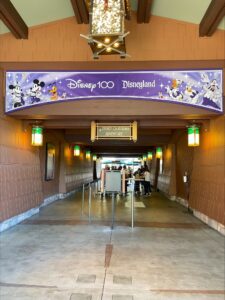 Last but certainly not least, my #5 "must do" at California Adventure is the Grand Californian Hotel Entrance. Wait- What?!  This may seem like a weird thing to mention, but so many people walk by this, and they are missing out.  The Grand Californian hotel is the only hotel with direct access to a Disney park.  On your way through the entrance you will be directly in front of the hotel pool and just a hop and a skip from the hotel lobby.  The Grand Californian lobby is a great spot to take a timeout with your group.  Stop by the dessert cart and grab a treat and a drink.  Enjoy some live piano music in a rocking chair by the fireplace. There is a delicious poolside restaurant called the GCH Craftsman Grill, and you do not have to be a hotel guest to eat there!  This spot is the ultimate rest and recharge location.  Looking to level up? Book a night or 2 in the Grand Californian hotel!  It is a truly magical experience and worth treating yourself to at least once.
So many things to see and do this summer!  The name of the vacation game this year, is slow down and savor.  We often think of these theme park vacations as exhausting, but they don't have to be!  Need help making sure your Disney experience feels like a vacation rather than a marathon?  One of your Mystical Dream Travel Advisors would be more than happy to help you plan!