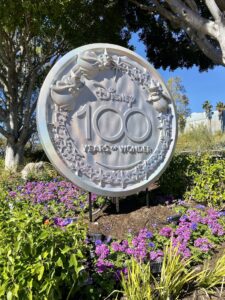 When it comes to choosing a summer vacation destination, Disneyland is always a good idea!  And this year is extra special as it marks the 100th anniversary of Disney!  The park is celebrating the milestone with brand new attractions, shows and special "100 years of Wonder" memorabilia.  All of this pays tribute to the evolution of Disney over the past 100 years as well as looking forward to what magic is coming down the pipeline for the future.   Disney always does a great job of keeping the parks moving and growing, so whether you're considering a first time trip to Disneyland or you're a returning guest, you won't want to miss out on these 5 things this summer-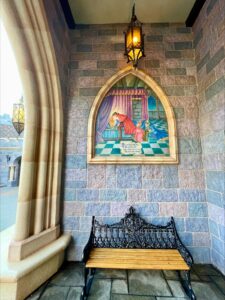 #1 Sleeping Beauty Castle Walkthrough: This is by no means a new attraction, but I am always surprised how many people don't know about it!  Harkening back to Disney nostalgia, this walkthrough allows you to literally "step into the story".  Not only can you walk under Sleeping Beauty's Castle into Fantasyland, you can venture inside the castle and enjoy the complete telling of Sleeping Beauty.  This is a sweet, immersive experience for the whole family to enjoy.  If you are running around trying to hop on all the rides, this is an attraction that can easily be overlooked.  For me, it is a "must do" because it showcases Disney's attention to detail allowing you to slow down and taken in the experience.  This may be an underrated attraction, but there are times when it can get crowded.  It's much more enjoyable if you can find a time when there isn't a line out the door, so try to go in the early morning or later in the evening (if you stay on property and take advantage of early park entry you will have this castle all to yourself).
*Pro tip-After the walkthrough head to the Bibbidi Bobbidi Boutique and ask for "a little bit of Pixie Dust"; a cast member will give guests over the age of three a gentle pixie dusting.  This is complimentary, and in my opinion the perfect start to a perfect Disney day!
#2 Mobile Ordering– This has been around for a few years now, but it always surprises me how many guests don't use this feature.  Mobile ordering is available as early as 7am, and it allows you to order your meal or snack in advance making it so you don't have to wait in long lines for your food.  Navigating crowds can be tricky, but if you use this feature correctly you can cut down your waiting time for food and use that time to enjoy your meal or get on more attractions.  I suggest perusing the mobile order options on the Disneyland app while waiting in line for attractions (this can also the wait seem to go by faster).  If there is a popular snack that you "have to have" like a Dole Whip, I would jump on that app and mobile order it the moment you get into the parks because on super busy days certain items will sell out.  Keep in mind that cart snacks such as churros and popcorn cannot be mobile ordered.  We know that things don't always go as planned, so remember you can adjust your arrival window as your day evolves in the park.  Places that are always best to mobile order from are Jolly Bakery Holiday Café, Tiki Juice Bar, and the brand new Café Daisy in Toontown.  And don't forget to find a spot to sit before picking up your food from the mobile order window!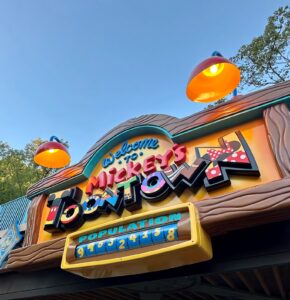 #3 Toontown- Moving onto the brand new additions- you must experience Toontown!  Toontown closed down in early 2022, and has recently reopened with a brand new attraction- Mickey and Minnie's Runaway Railway!   This is one of my favorite attractions in the park, and if you've already done this at Hollywood Studios in Walt Disney World, you haven't seen it all!  The queue for this attraction at Disneyland is completely different than the one in Hollywood Studios, and pays homage to old-school Disney and Hollywood nostalgia.  Toontown is an interactive land where families can play and kids are encouraged get some energy out.  The kiddos can explore the reimagined "Goofy's How-To-Play-Yard" and "Donald's Boat", while the entire family can enjoy some brand new lunch items from Café Daisy.
*Pro Tip– Grab the "Perfect Picnic Basket" at "Good Boy! Grocers", and enjoy a picnic on the lawn.  There are even blankets available for purchase!
#4 Magic Happens Parade– This parade premiered right before everything shut down for Covid and is now back in the parks!  It is so worth the wait, and features floats and characters from classic and modern Disney stories.   The music is fantastic, and you will enjoy never before seen floats from Moana, Coco, Frozen 2 and even the classic Sword in the Stone!   There are 2 show times for this parade, and I suggest attending the 2nd showing, as it can be a bit less crowded.  Alternately, the first parade showing is a great time to take advantage of low wait times for some attractions.   If you don't want to worry about seating for the parade ask your Mystical Dream Travel Advisor about the Magic Happens Dining Package, which includes reserved parade seating, and a meal at Plaza Inn- fried chicken anyone?!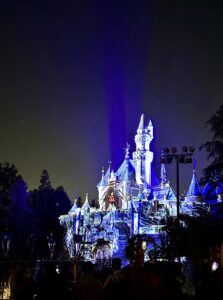 #5 Wonderous Journey's:  This nighttime projection and fireworks spectacular really embodies the spirit of Disney's 100 Years of Wonder Celebration.  It's not to be missed!  If you're an old school Disney fan like myself this will tug on all of your childhood heartstrings.  The song medleys and arrangements had me hooked!  I'm not ashamed to say I went home and re-listened on YouTube- that's how much I loved it.  And it's not only Disney nostalgia that is featured; the new generation will see all their beloved stories too.  Keep your eyes open for a special appearance from our loveable robot Baymax!  For optimal views, I suggest trying to find a spot where you can see the castle straight on.  If you're too far to the side the projections can get distorted and you'll miss some of what is going on.  As with all things Disney, it's about the storytelling.  The Wonderous Journey's story left me feeling uplifted and excited for future stories from Disney.    A perfect end to a perfect Disney day!
There are so many ways to enjoy a Disney vacation.  My top advice for clients is- don't try to pack everything into one day!   Pick a few of these "must do's" or add a day or two to your trip and allow yourself the time to really enjoy the parks.   There is so much available to experience this year at Disneyland you will have a magical time no matter what you choose.  And as always your favorite Mystical Dream Travel Advisor is here to help you plan!