When it comes to Disneyland, or any other Disney theme park for that matter, "5 things" is barely scratching the surface.  So when compiling this list I wanted to give you "5 things" from the perspective of a California native who grew up with Disneyland in her backyard.  These are my 5 MUSTS that I think make the Disneyland experience unique.  So yes, you of course need to visit Galaxy's Edge, conquer all the mountains, and get in those character meet and greets!  But here some "must-dos" that can only be done in the original Disneyland!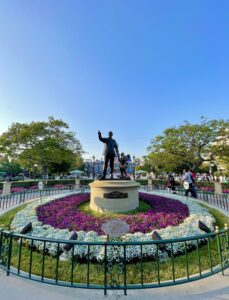 #5–  You MUST enjoy a meal at a sit-down restaurant-  One of the biggest mistakes I find people make during their Disney vacation is not building downtime into the trip.  There is a pain barrier where the constant go-go-go starts to cancel out the fun.  A great way to avoid this is to make reservations at a sit down restaurant and take a break in the middle of the day.  It's true Disneyland has many more quick-service options rather than table service restaurants, but there is so much more to Disney than Churros and Dole Whips- although sometimes I feel like I could live off those alone ;). Some of the best restaurant experiences in Disneyland can be found at The Blue Bayou and River Belle Terrace.  With Blue Bayou you get the ambiance of the Pirates of the Caribbean Ride throughout your dining experience.  Enjoy soft lantern light as you eat a delicious Cajun inspired meal, and watch guests embark on their pirate adventure.  At River Belle take your pick of seats on a sprawling balcony right in front of the Mark Twain River boat.  Take in gorgeous views of the park and enjoy some fantastic people watching.
For those who are looking to step away from the crowds try making a reservation at one of the many restaurants in Downtown Disney.  Downtown is steps away from the Disneyland entrance, so it isn't going to take a ton of time to get to your reservation, and you will be back in the park shortly after you enjoy your meal.  Some of my favorites include Naples Ristorante & Bar and Ralph Brennan's Jazz Café.
#4– You MUST take a ride on the Disneyland Railroad- Walt Disney had a life-long fascination with the railroad, so this attraction was very near and dear to his heart.   The Railroad was one of the first attractions to become operable in Disneyland.  Today the Railroad is 1.2 miles long, and it takes about 18-20 minutes to complete a single-track circuit.  One of my favorite things things about Disneyland is the historic significance and getting to experience some of the attractions that were truly made in Walt Disney's original vision.  If you're like me, the classic grand circle tour on The Railroad is a great way to start your day at Disneyland.   For some it's a nice mid-day break when your feet need a rest or it's a means of transportation from one end of the park to another.  Whatever your strategy, this is attraction is a must for it's nostalgia and iconic views of the park.
#3 Riding the new and improved Snow White's Enchanted Wish is a MUST-  Disneyland's Fantasyland is very near and dear to my heart.  Some of the classic rides that exist in the Anaheim location cannot be found anywhere else, Alice in Wonderland, Mr. Toads Wild Ride, and Storybook Land Canal Boats to name a few.  One of the original rides just got an update and that is- Snow White!  This attraction first opened in 1955!  The updated version still has the classic appeal but with updated audio and visual technology that allow you to see experience the story in a whole new light.  For me, it's the stories I grew up with that really give me that "magic Disney feeling", so it's great to see when they give these classics a little love.  **Fantasy Land Pro Tip- When you step off Snow White's Enchanted Wish, head to the castle and veer right to experience the Sleeping Beauty Castle Walkthrough.  This is an underrated experience that I feel like a lot of people miss as they run through that castle to those moving attractions.  The illustrations are beautiful and coupled with the music this is a uniquely immersive walkthrough experience!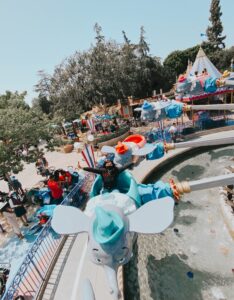 #2 You MUST save certain rides for the evening time-  Sounds weird?  Stick with me… as an annual passholder going to Disney monthly, and sometime weekly (eek!), I got really good at knowing when and where to be in the parks for the optimal experience.  I can say without at doubt these 2 attractions are just better at night:  The Matterhorn and Big Thunder Railroad.  The Matterhorn is one of the first rollercoaster rides to be added to Disneyland.  Truth be told, we all love those rickety bobsleds, and there's nothing better than getting off that ride with your friends laughing as you compare bumps and bruises.  Doing this ride at night adds a thrill aspect as you hurtle down the mountain, and totally enhances the experience.  In my opinion the park is most beautiful at night.  Disney really knows how to light a space and this is especially true for Big Thunder Railroad.  The rocks give off an orangey glow, and similar to The Matterhorn there is a thrill aspect added at nighttime as you chug up those darkened tunnels.  You will also get some of the best views of the park from the train as you reach the top of those mountains. Rumor has it this attraction goes faster at night- so there's that too.
**Pro-tip– Time your Big Thunder ride with the nightly firework show, and take your experience to the next level!
#1- Lastly, you absolutely MUST ride Haunted Mansion Holiday- Halloween or Christmas take your pick!  Nobody knows how to make the holiday more special than Disneyland.   From the décor all the way to the unique treats located throughout the parks the holidays are Disney at its best.  The Nightmare Before Christmas overlay at the Haunted Mansion cannot be missed.   You'll have ample opportunities to enjoy this experience as it starts in September and runs through the first week of January.   The music and atmosphere on that attraction are unlike anything I've experienced at any of the parks.  I can honestly say this is one attraction where the time in the queue is just as great as the time on the actual ride.   When you make it to your doom buggy get ready to take in the sweet aroma of gingerbread as you pass by the mansion's grand ballroom and catch a glimpse of happy haunts dancing around an enormous gingerbread house!
When it comes to Disneyland "5 things" is never enough!  But hopefully with these five you can experience something new on your next trip to the park!
To learn more about Disneyland contact us today!