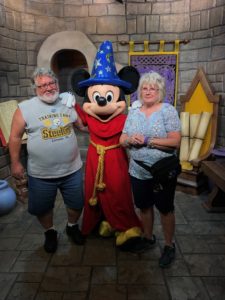 I always loved everything about Disney from the movies, to the characters to Walt's vision since I was a child. It wasn't until my very first trip to Walt Disney World, at 54, that I truly fell in love with the magic of Walt Disney World and understood what it was all about. I always knew it was there but there was something about seeing Cinderella's Castle for the first time that truly made it feel like home to me. Since that first trip I have been traveling to Walt Disney World every year with my husband and three children and granddaughter, who is the light of my life. I have been married for an amazing 48 years and love spending time with my family, volunteering at my Church, cooking or doing crafts.
I specialize in Walt Disney World vacations, because it has been a dream of mine to be able to share my same passion for Disney with other families and create a magical experience for them. I love sharing my experiences and my love for Disney with others, especially planning first time trips. I truly enjoy helping families create memories and spending quality time together. My experience and knowledge gives my clients the best vacation they can imagine.
My favorite tip for my clients:  Always plan ahead for dinners and coordinate to the park you are visiting that day, this saves you from rushing and you can enjoy your day at the park without having to go from park to park.
Karen@mysticaldreamtravel.com