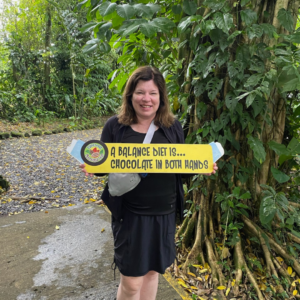 There is a slice of paradise in Central America nestled between Nicaragua and Panama.  The country's slogan, pura vida – translated to "simple life" or "pure life" – is more than just a saying—it is a way of life in magical Costa Rica.
A visit to Costa Rica is a true delight of the senses.  From tropical rainforests to iconic wildlife, there's something for everyone to experience.  Here are my favorite things from my second and most recent visit to Costa Rica.
Gallo Pinto – This local dish, comprised of rice and beans, is traditionally served for breakfast with eggs. It also joins a protein like fish or chicken, and a green salad, to comprise "cosada" the typical Costa Rican lunch plate.  Sometimes this dish is complimented with Lizano Salsa, a unique condiment only found in Costa Rica.
Hot Springs – The area of La Fortuna, at the base of the Arenal Volcano, is home to many hot springs of varying temperatures. Our most recent visit to EcoTermales Fortuna Hot Springs allowed for relaxing soaks among the backdrop of surrounding rainforests of the La Fortuna/Arenal Volcano area.
Chocolate – Who doesn't love chocolate? In Costa Rica you can discover the ancient secrets of chocolate in the Cacao Rainforest.  From the plant to the tasting spoon, you'll see how chocolate comes to life.  You may even experience wildlife in its rainforest habitat.
Caño Negro Wildlife Refuge Boat Tour – The best way hear the calls and view the beauty of iconic Costa Rican wildlife is to embark on a guided boat tour. Our journey started close to the border of Nicaragua on the Rio Frio.  We delighted in the cries of howler monkeys and seeing the magnificent basilisk lizard walk on water.
Beach – A visit to Costa Rica is not complete without a trip to the Guanacaste province, home to gorgeous beaches and stunning sunsets on the Pacific Ocean. Surfing, snorkeling, and deep-sea fishing are popular in this province, as are water sports like paddleboarding and ocean kayaking.  The best way to experience Guanacaste is to book a catamaran excursion which often includes snorkeling and some of the best beach views.
This is just a taste of what you can experience in Costa Rica.  Pura vida hits on your first visit and remains with you even when you leave this memorable country.
Ready to start planning your next adventure?
A Mystical Dream Travel Advisor can help you begin planning the vacation of your dreams! Click here to start making memories that last a lifetime!
Like this article, be sure to share with your family and friends on social media!