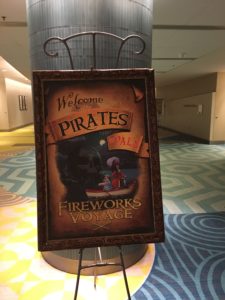 Two months ago, I went to Walt Disney World with my family and did something extra special! The Pirates & Pals Fireworks Voyage.  It was a very fun event, and I'm going to tell you all about it.
Our adventure began at the Contemporary Resort, were we were given special pirate bandannas, that we had to wear and then we met, the best Cast Member ever, Patch the Pirate.  Patch was our leader for the night.  We had to do a special Ahoy- Mates and when our group got it right, we got to go in a room full of treats and sweets!  A few special guests arrived, Captain Hook and Mr. Smee, they were a lot of fun, although Captain Hook did not like me, due to my Tinker Bell Shirt, but Mr. Smee did!
After getting our pictures taken with Captain Hook and Mr. Smee, we had a candy feast and danced until it was time to board our boat!  One of the most magical parts was I got to carry a special flag in a parade all the way to the boat.   Once we got on the boat, we played games, took pictures and shared facts about each other and the best part was watching Wishes from the Seven Seas Lagoon!   After Wishes we headed back to the Contemporary Resort, where we had a surprise guest waiting for us and it was Peter Pan!
Overall, this experience was wonderful.  I recommend this experience for ages 2-7, especially if you like Jake and the Neverland Pirates!