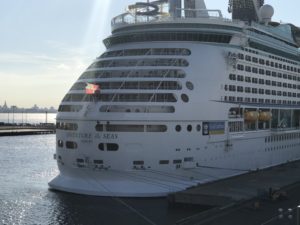 This past month Karen and Tina took a quick trip to Bayonne, NJ for a Preview of the newly updated Adventure of the Seas. This ship just happens to be the ship we will be on in July for our group cruise along with Dancin' J's Studios!
The Adventure of the Seas was recently updated and has repositioned from San Juan to Cape Liberty in Bayonne, NJ as it's home port. First off what I love most about this ship is the current location. For those in the Pittsburgh and surrounding areas, this Port is within driving distance 5 1/2 hours to be exact from Pittsburgh, that means no airfare is needed, which makes it a great location, also tacking on a weekend in New York City is an awesome option!
The Adventure will rotate between a Bahamas and Canada/New England Itinerary. The Bahamian cruise will feature a stop at Port Canaveral, Coco Cay (Royal's private island) and Nassau. The Canada/New England itinerary will has stops in Portland and Bar Harbor Maine, and include stops in St. John, New Brunswick and Halifax, Nova Scotia.
What's new on the Adventure of the Seas:
The Perfect Storm Waterslides. Double your adrenaline rush on the dueling high-speed water slides, Typhoon and Cyclone. A first-of-its kind at Sea.
Splashaway Bay. Have family fun by the gallon on the newest, biggest aqua park yet on Royal Caribbean – complete with a drench bucket, water cannons and two slides of its own.
FlowRider – The FlowRider simulates a real surfing and body boarding experience. 30,000 gallons of water per minute rush underneath the rider at 30 MPH creating a five-foot ocean-like wave. From 12:00 p.m. to 3:00 p.m. you can boogie board and 3:00 p.m. to 6:00 p.m. you can surf!
The Adventure of the Seas will now feature Izumi, a fan-favorite specialty dining restaurant. From sushi to sashimi, Izumi offers guests an exotic Asian-inspired dining experience. You'll enjoy a wide variety of appetizers, entrees, desserts and more, all made-to-order with intense flavors, the best ingredients and impeccable presentation.
During our visit on board, we were able to take a look inside Vitality Spa, which is beautiful and amazing. Magical Pro Tip: Want to save on Spa Treatments book your Spa Treatment when you are docked at a port, it's also easier to get an appointment. We also got a preview of the show Invitation to Dance which was amazing, if you love Dancing with the Stars you will love this show!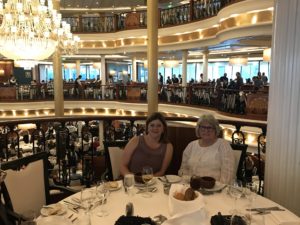 Magical Pro Tip
: Take the time to get up early to watch the sunrise at sea, there is nothing more beautiful , magical and peaceful.