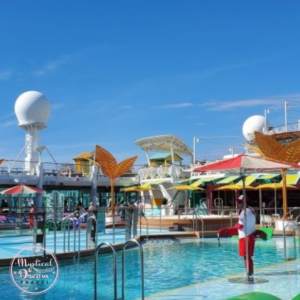 As a first time cruiser, you may be feeling overwhelmed over what to do first, and probably have questions on what to pack, where to go, etc. We have put together our top 5 favorite tips for first time cruisers below:
Head to the embarkation port a day early:  It is best to not risk missing your cruise by heading down a day early.  There could be a flight delay, which could deter you from arriving at the port in time.  It's best to catch a flight a day before your cruise is scheduled to set sail.
Pack a swimsuit in your carry-on: Your checked luggage could take hours to arrive at your room.  If you plan on hanging pool-side on embarkation day, it's best to pack a swimsuit in your carry-on luggage, so you can change in a public restroom on board.
Keep your phone in airplane mode: No one is looking to pay extra charges while sailing on your cruise vacation.  Be sure to pop your phone into airplane mode upon sail-away.  You will want to do this regardless of if you have the internet package or not.  If you purchased the internet package, you will need to hop onto the ship's Wi-Fi, once you set sail.
Download the cruise line's app: Cruise lines have ventured into the digital world, just like most everyone/thing else.  Be sure to download their app & enter your booking information.  This will allow you to book excursions, book drink packages, & book any other extras, as well as view the itinerary.
Take some extra storage with you: Cruise ship staterooms can be on the smaller side.  To maximize your space, invest in an inexpensive, over the door, shoe rack to hang & organize your toiletries.  It frees up counter space in the bathroom & allows you to find things a little easier.  Packing cubes are also a great way to keep your clothing organized, as well as hanging canvas shelves.
Ready to start planning your next adventure?
A Mystical Dream Travel Advisor can help you begin planning the vacation of your dreams! Click here to start making memories that last a lifetime!
Like this article be sure to share with your family and friends on social media!