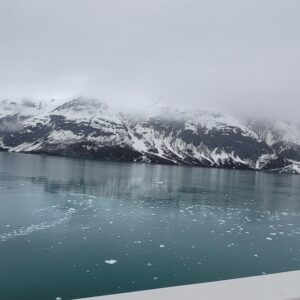 It seems a lot of people have a trip to Alaska on their bucket list. I don't blame them. I had it on my bucket list and am so lucky to be able to say that I have been there not one, but three times! I have taken a land tour and two cruises. Taking a cruise to Alaska is an experience like no other and one I highly recommend.
I wanted to share with you five of my must-dos on an Alaska Cruise.
Consider what type of stateroom you are going to stay in. I highly recommend one with a Balcony. With Alaska, the scenery is breathtaking even when cruising to a port. Sometimes, you are able to see wildlife when sailing past mountains or see pieces of glaciers floating past. On my first cruise to Alaska, we were even able to see the Aurora Borealis one night from our balcony!
When you are in the ports, if you can, try the seafood. My first Alaska Cruise was in 2015 and my last one was in 2022. In 2015, we stopped in Juneau and I had crablegs at Tracy's King Crab Shack. When I knew I was going back in 2022, that was one place I kept talking about stopping. The crab legs were huge and as delicious in 2022 as they were in 2015!
Try an excursion in each port. They have them for all different activity levels and interests. I highly recommend the White Pass Scenice Railway in Skagway. The train tracks were built in 1898. You will see mountains, glaciers, trestles and go through tunnels, all while riding in a vintage train car. In Skagway, I also experienced the Good Time Girls Walking Tour which went through the history of the town. I have been to the Mendenhall Glacier and hiked to Nugget Falls while in Juneau. I highly recommend a whale watching boat ride, if you are like me and love sea life. In Ketchikan, I went on the Ketchikan Crab Fisherman's Tour, saw the Lumberjack Show, and a walk through a rainforest. I love the variety available and the different options for all activity levels.
Get off the boat! Okay, what I mean is, don't stay on the ship when you are in a port even if you aren't doing an excursion. Did you know that Juneau, Alaska's State Capital, is only accessible by ship and air? The roads to Juneau don't go anywhere but Juneau. Take a stop in the Red Dog Saloon and take a peek at Wyatt Earp's pistol, keep an eye out for any of the 280 species of wildlife that reside in the area, or, as mentioned earlier, try some of the local seafood. Skagway, the Gateway to the Klondike and one of my favorite towns, looks like it did back in the days of the gold rush with it's wooden sidewalks and rustic buildings. The year round population of Skagway is approximately 900 residents. Take a stop in the Red Onion Saloon, have lunch, a beverage, and take a tour of the museum upstairs with one of the madams, if you know what I mean. Ketchikan is the Salmon Capital of the world! Believe me when I tell you, there's some good eating there.
When you cruise into Glacier Bay National Park, the ship will be boarded by National Park Rangers that will give narration while you are sailing into this area. I highly recommend being outside at some point so you can hear the sound of the glacier calving and see the immense power of the ice. It is an experience like no other. The glaciers are a living, moving ice field and move under the influence of their own weight and gravity. The color of the glacial ice is a blue that, to me, is indescribable.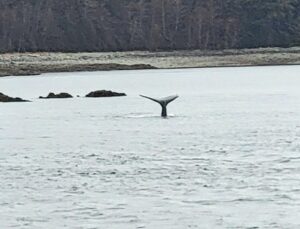 I could go on and on about more must dos and things to see in Alaska. My best advice is to pack your binoculars, rain gear (believe it or not, the area you will be visiting is in the Tongass National Forest which is a temperate rainforest) and some layered clothing and make the decision to go. I promise you that Alaska will not disappoint, whether you love adventure, wildlife, history, food, or all of the above. And who knows, maybe you will be like me and decide that one trip there is not enough.
To learn more about an Alaskan Cruise contact us today!