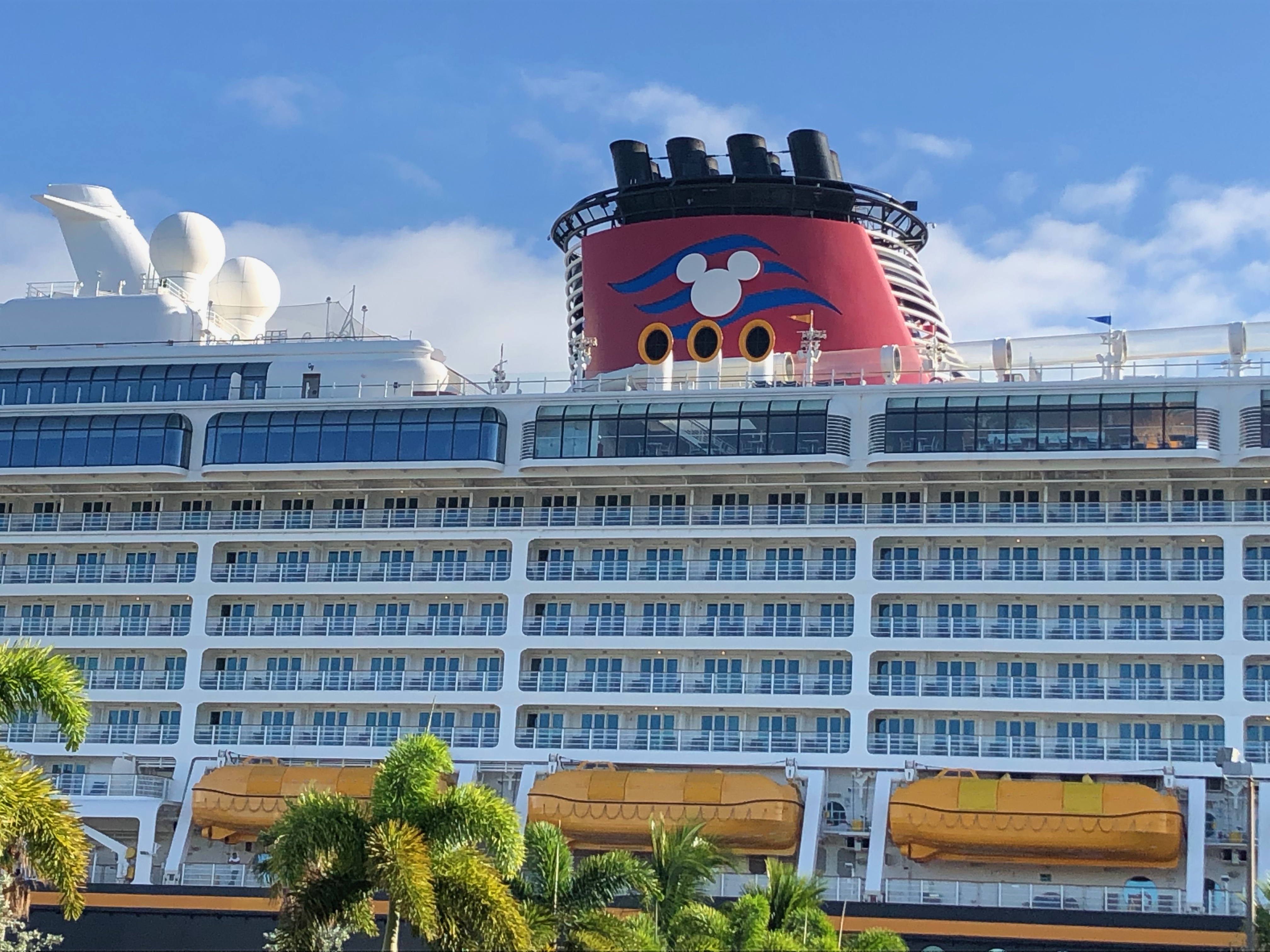 When someone says they are going on a Disney Cruise the response is usually a lot of oohing and aahing with a heavy dose of jealousy. The Disney Cruise Line is highly regarded as one of the best cruises you can take your family on, especially if they are Disney fans. On a recent tour of the Disney Dream cruise ship I got to discover exactly what it is that makes Disney Cruise Line a notch above the rest.
They Treat You Like A VIP
From the moment you cross the threshold of the ship you are treated like someone special. No other cruise line makes a fuss about you boarding the ship like Disney does. There is something so magical about having your family's arrival announced to the crowd as you enter the glittering and splendid main lobby. Every interaction with the crew members is like that, with a smile and friendly greeting around every turn. Just like the level of service you expect when visiting Walt Disney World, they take the idea of "Be Our Guest" to the next level.
The Disney Ambiance
Mickeys on the smoke stacks and hidden in the pattern of the carpets and walls, the Mickey shaped pool, Disney characters appearing around the ship, Disney artwork and music everywhere you go, Disney movies all day long on the pool deck, and even first run Disney movies playing in the Buena Vista Theatre. If you love all things Disney then you are going to be in heaven!
The Kids Clubs
Of course a Disney Cruise is going to be all about the kids and they have dedicated a huge amount of space on the ship for areas just for them. The Oceaneer Club and Oceaneer Lab are two of the coolest spaces on board, even the adults want to hang out there! There is a replica of the Millenium Falcon aspiring Jedi can fly, Tinkerbell's Pixie Hollow is the perfect spot for an art project, Andy's Toy Room is just right for younger kids, and the older kids will love the Disney Xfinity room outfitted with several Xboxes and a variety of video games. There are also tons of activities, games, science experiments, and even animation classes offered all day long so they are never bored.
For littles under age 3 there is the Small World Nursery, which is an extra charge, to give parents a little break to enjoy a special night out or a spa treatment. Pro tip: if you want to schedule a date night or spa time, reserve your spot at the Small World Nursery ahead of time on the Cruise Navigator App. The space is limited and fills up fast.
For tweens ages 11-14 there is Edge, a great transition area for those kids who want something a little more "grown up" feeling then the Oceaneer Club. There are plenty of computers, video games, and flat-screen TVs, plus daily guided activities to help them connect with other tweens. For teens age 14-17 there is the hip and cool Vibe, featuring a sunken living room type area with oversized TV screen, video game cubbies in the wall, a large arcade, a juice bar, and even their own private sundeck and pool. This space is fully chaperoned and only the teens are allowed entry (they get their own special key card and secret entrance), but it still gives them the feeling of freedom that they crave.
Be sure to register your children for the Kids Clubs before boarding. You still need to complete their registration at the Club, but it will be quicker. Get there early on Embarkation Day to avoid the crowd that develops later in the afternoon. Visiting the kids areas during the Open House times is a great way to familiarize your kids with the staff so they feel more comfortable when you bring them there later. If you have the later dinner seating (8 p.m.) make sure you sign up for Dine and Play, an ingenious option that allows you some quality time with the kids at dinner, where their food is brought out first, and then when they are done eating the Oceaneer staff will be there to escort them back to the Oceaneer Club or Lab for evening activities while you enjoy a quiet dinner!
The Spa
Speaking of adult time, the Senses Spa & Salon is simply amazing and a space you must visit while on board. There is a fitness center that is free of charge to use, including several fitness classes like Palates and Yoga. Some of the additional charge spa services include an indulgent Couples Choice in one of the Spa Villas. Enjoy a 75 minute spa treatment of your choice, plus a tea ceremony, bathing ritual, foot cleansing ceremony, and the use of a private balcony hot tub.
A less expensive, but still amazing, choice is a Rainforest Pass. You can purchase a single day or multi day pass which gives you access to the Rainforest Room which features a set of three saunas each of which provide a different treatment, and a set of four aromatic showers that are each different temperatures, water pressures, and scents to invigorate and warm the body. Then relax on one of ten heated stone loungers while soothing music plays and you gaze at the constellations in the ceiling. There are also two jacuzzi tubs that overlook an open window so you can see the ocean from any angle of the room.
While the regular Senses Spa services are only for guests ages 18 or older, there is the Chill Spa offering massages, manicures, pedicures, and other salon services created with your teen in mind. Exclusively for guests age 13-17, it is another unique offering by Disney Cruise Line that shows how dedicated they are to creating an amazing cruise experience for their younger guests.
Pirate Party
Almost every Disney Cruise itinerary includes a Pirate Night which features a Pirate Deck Party and Nighttime Show, and ends with a thrilling fireworks display, which is a Disney Cruise Line exclusive! Guests really get into it and many dress up in full pirate gear for the evening. The dining rooms will even have special Pirate themes and your kids can even visit the Bibbidi Bobbidi Boutique for a pirate makeover. On Star Wars Day at Sea and Marvel Day at Sea sailings you also have a special Star Wars or Marvel themed party night so you get twice the fun!
Rotational Dining
Another cruise first with Disney Cruise Line is Rotational Dining. On each ship there are three different dining rooms and each night you will switch to a different one. This is a departure from the one or two main dining room options on other cruise lines where you would eat in the same dining room each night. But don't worry, your waitstaff and servers will rotate with you! So they still get to know you and your family for that VIP experience.
Themed Cruises
A Disney Cruise might sound like a theme all by itself, but there are even more immersive themes during certain sailings. In the Fall you will enjoy a Halloween on the High Seas theme, complete with Halloween decorations, trick or treating and other fun activities during Mickey's Mousquerade Party, Haunted Stories of the Sea, and even a Nightmare Before Christmas Sing and Scream. During November and December there are Very Merrytime Cruises which feature a special tree lighting ceremony, Santa's Winter Wonderland Ball with Santa and Mr. Claus, a real Gingerbread House, and storytime with Mrs. Claus.
There is also the very popular Star Wars Day at Sea and Marvel Day at Sea cruises. On these cruises there will be even more Star Wars or Marvel characters and entertainment, plus a special themed day at sea with an exciting deck party in the evening with more fireworks!
This is honestly just scratching the surface on what makes Disney Cruise line one of the best cruises you can take your family on. They are certainly a magical experience that your family will be remembering for years to come! Contact your Mystical Dream Travel agent for more information on available sailings and the other details of the Disney Cruise itineraries.
To hear more about Disney Cruise Line and all it has to offer your family contact Colleen today!