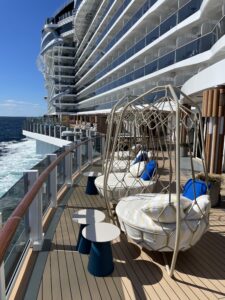 The Norwegian Prima is the first ship in a brand new class of luxury cruise ships from Norwegian Cruise Line- the Prima Class!  Sounds fancy?  You'd be right!   I was lucky enough to experience one of the inaugural sailings for this ship last year, and it is without a doubt one of the most unique cruising experiences out there. From spacious stateroom layouts, innovative shows and delicious dining experiences- there is just so much to see and do on this ship!
The wide range of amenities caters to many different tastes and the common denominator throughout is luxury. This cruise it the ultimate "treat yourself" experience. It's the perfect ship for couples, friend groups and multigenerational families. If you are considering treating yourself to one of the Prima's fantastic cruise itineraries do not get off the ship without experiencing these 5 things-
My top 5 "must do's" when sailing the Norwegian Prima-
The Observation Lounge– this is my favorite space on the ship!  When I am on vacation, rest and relaxation is one of my top priorities; the observation lounge embodies that.  Areas like this can get crowded especially on sea days, but the lounge has deliberately carved out separate nooks so guests can feel like they have their own private space in a room that can be filled with many people.  Every seat is comfortable and the ocean views are unreal.  This lounge is positioned right at the front of the ship with floor to ceiling windows making if feel like you are right on the water.   Afternoon tea was one of my favorite times to bring my book and take in the ocean. In the evenings, they open up a full bar adding another beautiful space for guests to enjoy a drink at sea.   There wasn't a day of the cruise that I didn't visit this space.
Indulge Food Hall– one of the most unique food concepts on a cruise ship, and the best part…. it's included in your cruise fare!  Think of a bunch of food trucks in one place, but instead of having to go up to each individually, you sit at a table and can order from each one as servers bring the food to you.  Sounds unreal, but this is the newest dining venue on Norwegian and I think it's going to be very popular.  There is a tablet at each table with menus for every venue.  You have a range of options from Indian, Spanish Tapas, Fresh Salads, or even BBQ to name a few.  So many options and every dish I tried was delicious.  This venue really open up food options to guests beyond the typical buffet and main dining rooms.    On warmer itineraries, grab a table outside and enjoy innovative seating and incredible views with your meal!
The Mandara Spa– Every Norwegian ship has a Mandara Spa onboard, but on the Prima it spans 2 levels.  As with the Observation Lounge, this space is located at the front of the ship allowing guests to take in the ocean after they have experienced their spa treatments.  This is a true escape, and you feel like you may have stepped onto a different ship that's dedicated solely to pampering oneself.  Booking a spa balcony gives you access to the thermal spa for the duration of your cruise.  Or you can pay for a thermal spa pass for $299.  Totally worth it!
Galaxy Pavilion- Fun for the whole family!  You don't want to miss this unique experience on the ship.  I'm not a huge fan of arcades, but I had a blast in this elevated virtual realty experience.  There are games for everyone- races, golf simulations, zombie raids and more!  There are also multiple 45-minute escape room experiences.  On sea days and even port days, families and friends will enjoy competing in different games.  This room is an event all by itself!
The Prima Theater– You cannot leave this ship without a visit to the Prima Theater.  This versatile room houses Broadway performances, game shows and turns into a 3-story nightclub in the evenings.  Make sure you grab a reservation for one of the onboard live game shows.  On our sailing we got to experience the "Price Is Right"!   Norwegian has up-leveled this experience so you truly feel like you are in a live taping of the show, and every audience member has the chance to "come on down"!  There are a multitude of amazing prizes to be won as well.  This was one of the most memorable experiences of the cruise for me.
Whether you are looking for some relaxation or fun with the whole family the Norwegian Prima is a place where everyone can come and enjoy! Contact us to start planning your vacation!