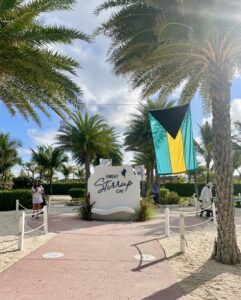 Great Stirrup Cay is Norwegian Cruise Line's private island in the Bahamas.  The port destination sits in the middle of the Berry Islands- about 140 miles from Miami. It has become a staple port of call on the line's Bahamian and Caribbean cruises, and it is the neighboring island to Royal Caribbean's Perfect Day at CocoCay.  One of the amazing perks of Great Stirrup Cay is that only Norwegian passengers and staff are allowed on the island, which make this a true extension of the cruise ship.  Same as on the ship, your room key will grant you access to most everything offered.  I recently experienced my very first cruise on the Norwegian Escape, and Great Stirrup Cay was our final port of call.  Here are my top takeaways-
Great Stirrup Cay is a tender port– For my fellow first-time cruisers, a "tender port" means there is no big pier to dock at.  To get to the island you must take a tender boat from the ship to the island.  These boats run back and forth all day.  You will need to secure a tender ticket to go ashore.  If you want to be one of the first guests on the island make sure you get your tender ticket early.  The ride takes about 10 minutes between the island and where the ship is anchored offshore.  Weather conditions can sometimes prevent you from tendering to the island, but those times are rare.
What Can You Do On The Island?-  The main attraction on the island is the fantastic beach!  There's a seemingly never-ending row of lounge chairs and multiple protected coves for swimming and snorkeling.  In addition to snorkel gear, the islands rental center can provide wave runners, standup paddleboards, and floating mats.  You can take your experience to the next level by signing up for the zip-line adventure!  You will pay extra for this experience, but it is a big draw.  There are 2 courses featuring multiple zips, a ropes course, bridges and chimney climbs.
*Tip- For those looking for a quieter beach experience, don't settle for the largest most central cove.  Head down the beach some, and follow the path to other coves.  You'll find less crowds and a slower pace.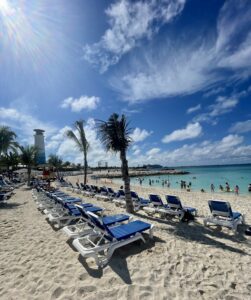 Food And Beverage– I mentioned earlier that of my favorite things about the island is that it was an extension of the ship.  All the food service on the island is included in your cruise fare, and there are plenty of options to satisfy all palates.  Food options include a large buffet, grill, hot-dog cart and food trucks.  I suggest heading to the taco truck where you can choose from beef, pork, chicken or fish tacos.  So yummy!
For those who purchase the beverage package, YES, you can use this on the island as well.  Head to any bar on the island and you can get a drink just like you would on the ship.  The same $15 drink limit applies, and for those without the beverage package you can still enjoy a cocktail with a simple swipe of your room key.  Take it from me- the Pina Coladas are amazing!
Shore Excursions– If you're looking add an adventure to your beach day you do have the option to book excursions during your time on the island. You can choose from a Sting Ray Encounter, Swimming With The Pigs, a Catamaran and Snorkel Tour, or renting a Private Cabana.  We chose to "Swim With The Pigs" during our day at the island.  This is definitely an "Instagram worthy" experience as it is generally geared toward taking pictures with the pigs- and there are plenty of opportunities for this.   There are a ton of pigs on the island and the guides make sure you will get some great pictures.  For those looking for a more active experience, I would choose differently as you won't really be swimming with these piglets- rather wading in the beach and taking pictures.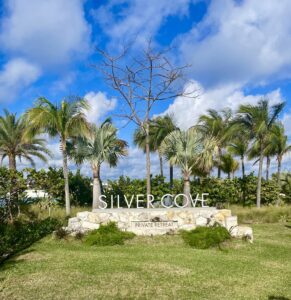 Silver Cove: A Private Island Retreat– For those wanting a more exclusive island experience, I highly recommend renting a villa at Silver Cove.  Similar to The Haven on the ship, this area on the island is reserved for Cove guests only.  These Villas are fully enclosed and offer a full bathroom, living area, central AC, and a television- with complimentary on demand movies.  Each villa also has it's own outdoor patio looking out on a beautiful secluded beach area only accessible to Cove guests.  Choose from a Studio, 1-bedroom or 2-bedroom villa available for varying prices accommodating up to 8, 10 and 16 guests respectively.
This is an ideal experience for bachelor/ bachelorette parties or any private group celebration.  It could also be a great place for families who want to be able to relax and nap off the beach during the day.  Silver Cove features its own reception area, private restaurant, private Moet Bar and private lagoon and beach.  I highly recommend this experience to those seeking ultimate luxury and relaxation while on Great Stirrup Cay.
Will you have a great time on Great Stirrup Cay?  Absolutely!  Whether you're looking for a relaxing beach day or a thrilling zip-line experience- there's something for everyone on this island.  For more information on this and other Norwegian Cruise Line experiences contact one of our travel agents!