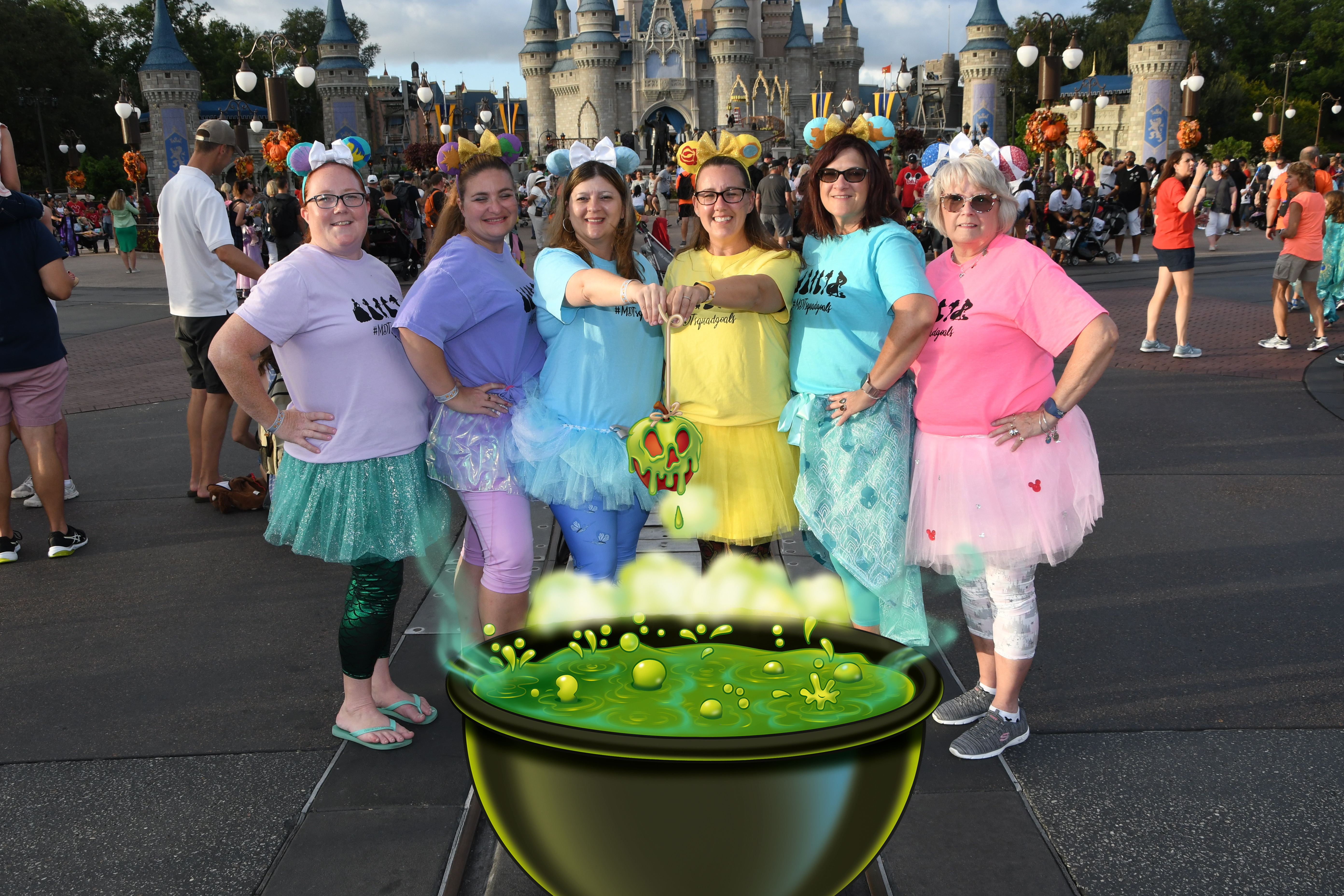 By: Judi – Independent Travel Consultant
I am sure the children that were at Magic Kingdom with their families were excited to dress up in costumes and attend Mickey's Not So Scary Halloween Party the night I was there. Let me tell you, this adult was beyond excited to finally get to attend this special event offered at Magic Kingdom on select nights in the Fall. Since I have not attended before I was excited to cross this off my bucket list.
The excitement started building a few months in advance when I was on a call with Tina and the other agents of Mystical Dream Travel that were attending the Agency Education Program (AEP) in October. I was thrilled about going back to the Walt Disney World Resort, even more thrilled about attending Mickey's Not So Scary Halloween Party and then super excited when they started discussing costumes! What? Not only do I get to go to my "Happy Place" at one of my favorite times of the year, but I get to dress up, too? Oh yeah, count me in. After some discussion, the decision was made on what we were going to wear. We were going to be six of the Disney Princesses! So, the costume idea was worked on with each agent getting a shirt of their princess' color with a princess design on it and a matching tutu and the rest of the costume was up to each one of us to accent as we saw fit.
The day of Mickey's Not So Scary Halloween Party arrived, and we transformed from six travel agents into six beautiful princesses!
If you have the special event ticket for the party, you don't need a park ticket for the day. However, you can't access the park before 4:00 p.m. and the actual event start time is 7:00 p.m. A couple of the great things about entering the park at 4:00 p.m. is that you can have a meal before the actual event starts and ride a few attractions. My favorite thing about entering early is that you can get one of the special event brochures that includes a map. You can see the schedule of events and plan your times to view the shows, decide which goodies you want to try, and which dance parties might catch your fancy! You can also see the character spots that are available for great photo opportunities and see which attractions have a Halloween twist to them.
Upon arrival, we stopped to have a few pictures taken by one of Disney's PhotoPass Photographers in front of the train station. When you do this, be sure to ask your PhotoPass Photographer for magic shots!
If you arrive before 7:00 p.m., the park is transitioning from the regular guests leaving and the special event guests coming into the park. The cast members direct guests to a location by Town Square, where you can get pictures taken along with your trick or treat bag. Our plan of attack was to stop somewhere to eat before we got serious about riding. But, as soon as we got past the entrance, the Town Square Theater was on our right, which is a character spot. The time to meet Mickey Mouse was 15 minutes, so we got a little sidetracked from food and went to get a group picture with Mickey Mouse! He hadn't changed into his Halloween party attire, at the time, but it was still so worth it to see him and get a group photo.
I know, most princess are searching for their handsome prince charming, not us, after getting pictures with Mickey Mouse, we were looking for a good meal! Needless to say, the six princesses were getting a little hungry. The restaurants in Magic Kingdom are open for the event and some of them even offer special selections for Mickey's Not So Scary Halloween Party. At Pecos Bill Tall Tale Inn and Café, they serve Hades Nachos, which was our choice of dining. Note, that the exclusive menus for the parties are not available until 7:00 p.m.
While we were on our quest for food, I noticed tall candy corn shaped blow ups around the park. There were 16 trick or treat stations that you could stop at to get candy. When I say candy, it wasn't just one piece of candy, it was a handful of candy! And even better, at your first candy stop, you were given a trick or treat bag for your loot. Here comes another food allergy tip – since I have a food allergy, I mentioned it at our first candy stop and received a different colored bag and at each stop that we made, I was given tokens to turn in at one of the Allergy Friendly Centers that were stationed throughout the Magic Kingdom. My helpful hint on the candy stations, the lines were really long when we first went into the park. As the night went on, the lines were not very long and they still had plenty of candy left to hand out! So, if you can wait to treat your sweet tooth, give it some time, enjoy the park and get candy later to snack on!
Pirates of the Caribbean was very close to where we were and it didn't have a long wait time. We decided that "It was a Pirate's Life for us!" Imagine my surprise that the ride had a Halloween twist to it! (There are several attractions that do and they are noted in the Park map that you get for the party!) Ok, spoiler alert, if you plan on going soon, don't read the next couple of sentences. There were real characters scattered throughout the ride! It was so cool! Disney animatronics are so real, it was almost hard to tell the difference. Even cooler, the characters interacted with the people on the ride! No surprise, but Disney does it again! When we got off the Pirates of the Caribbean, a Cast Member was handing out chocolate coins. (PRO TIP, don't put them in the front pocket of your drawstring bag and forget about them when the weather is going to be close to 90 the next day! They may or may not melt in your bag, but they were delicious!)
Now on to some serious riding! The cool thing about "adulting" at the Halloween Party, was we were all able to tackle the rides without worrying about height restrictions, who liked rollercoasters or spinning rides, etc. We were all game for anything. Ok, I might have backed out if a spinning ride was coming up, but it didn't happen, so I never had to make that choice.
Throughout the night, there were several different shows geared towards the Halloween fun. I noticed that most of the families with the smaller kids tended to stop and watch the earlier shows and parades. This helped us by making the ride lines shorter, especially during the "Event Exclusive Entertainment."
At one point, a few princesses decided to watch the "Hocus Pocus Villain Spelltacular" Show., while the rest of the Princesses decided to tackle more of the rides. Note that Space Mountain for the party is pitch black, talk about fun!!!
Mickey's "Boo-To-You" Halloween Parade was one of the many reasons I was so excited to go to the Mickey's Not So Scary Halloween Party. It was on my bucket list to see the Headless Horseman lead off the parade. Oh, my goodness, it was so worth it! We stayed along the parade route closest to Frontierland and had no one in front us and lots of space around us. PRO TIP: I recommend watching the parade at Fronteirland, it tends to be less crowded then in front of the Cinderella's Castle or on Main Street USA. Plus, when the parade was over, we were able to scurry off to our next ride before the people that were watching the parade from Main Street!
There were a few dance parties scattered at different venues throughout the park. We did peek our heads in to see what they were like but didn't stay and continued our riding adventure. I did notice that the DJ at the Disney "Descendance" Party was including adults in the dancing, so it wasn't just for the kids.
At 10:15 p.m., we stopped to enjoy Disney's Not So Spooky Spectacular Fireworks. The best spot to watch the show is in front of Cinderella's Castle. Even though we were late, we lucked out and were able to secure a good viewing spot. Most guests line up about 45 minutes prior, with children it's a good idea to do this. However with adults only, you can get a spot closer to the show. I also recommend snagging some of the Halloween specialty goodies to eat during the show. The Halloween specialty goodies are offered just during Mickey's Not So Scary Halloween Party. I hate to admit, I didn't take time to try any of the gluten free options. This gives me a good reason to go back! (Like I would need a good reason!)
After the fireworks, we still had time to enjoy more of the Magic Kingdom and ride more attractions. The good thing was that the park had really emptied out by this time, as most families headed back to their resorts. This is a great time to ride more of the attractions you want and/or go through the shops and do some last-minute shopping of items that are available only during Mickey's Not So Scary Halloween Party (of course I took advantage of it all). By the time we were done shopping, we noticed the time and realized that the princesses made it through the entire five hours (and then some) of Mickey's Not So Scary Halloween Party. We ate, we rode rides, we watched the parade, we had pictures taken with characters, we got candy, and we shopped! It was a great evening, and an event I would highly recommend whether you are traveling with children or just adults (princesses included!)
So, do I think that Mickey's Not So Scary Halloween Party is great for adults? I absolutely do! One reason is that it is an event with a limited number of tickets. It's easier to ride more rides, including the roller coasters, since the lines were shorter. It was nice to ride and enjoy the attractions right up to the fireworks show. Being with a group of adults, we could split up and go in different directions when we wanted to and catch back up with the group when we were done. Another nice thing about being with a not so younger crowd is that we could ride during the early shows and watch the later ones. The park does tend to thin out as the evening goes on. And, again, since we watched the later parade, we had a great spot to watch that wasn't super crowded. It was also fun to dress up in our costumes. Trust me, we weren't the only adults that did. It was also fun to spend the time with a group of people that are as big of Disney Fans (if not bigger) than I am and share some great laughs and make awesome memories.
To learn more about the magical extras at Walt Disney World contact Judi today!