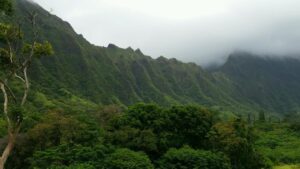 Hawaii is a destination on many people's bucket lists, and having had the opportunity to visit the island of Oahu two years ago, I can understand why.  This island has something for everyone, from picturesque beaches to beautiful mountains to the urban center of Honolulu.  If you have the opportunity to visit this destination, here are my five must dos.
Visit Waikiki Beach – Waikiki is one of the most famous beaches in Hawaii and a must-do when visiting Oahu. As the birthplace of modern surfing, there are plenty of opportunities here to take a surf lesson or rent a board to try surfing on your own. And with the view of Diamond Head, the scenery is spectacular!
Take a Drive to the North Shore- Whether you rent a car (as we did) or book a guided tour, a drive to the North Shore is a must do when visiting Oahu. From the sight of the lush, green mountains after leaving Honolulu to the amazing views of the Pacific, it is an experience you will not forget.  Make sure to stop at Laie point along the way for a breathtaking view of the Pacific Ocean.
Try Traditional Hawaiian Food – My husband's favorite culinary experience when visiting Oahu was when he tried a plate lunch, which is macaroni salad, rice, and a protein (he had beef and chicken). He ordered it from a food truck collective in Kakuku and said it was the best meal he had the entire trip.
Visit Pearl Harbor – While in Oahu, my family and I took a day to visit Pearl Harbor. We spent time paying our respects at the USS Arizona Memorial and also toured the Battleship USS Missouri and stood on the deck where World War II ended as it is the site where Japan surrendered.
Take a Swim at Waimea Bay Beach Park – With calm waters during the summer, this beautiful spot on the North Shore is an amazing location for a swim or snorkel, with clear waters and abundant sea life. Cliff jumping is also popular at this location, which my family did participate in much to my dismay!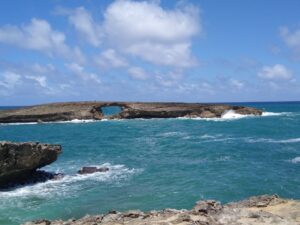 Oahu, Hawaii is really an incredible destination to visit, and one that leaves a place in your soul. Having had the opportunity to visit once, I know that someday I have to return to this incredible island! To learn more about Hawaii contact us today!