Have you thought about taking that "bucket list" trip to Hawaii but wondered about the best way to see a lot of the islands? You might want to consider a cruise on Norwegian Cruise Line's Pride of America. My family and I took this cruise, recently, with the Mystical Dream Travel Summer Vacay 2023 group.
We loved the fact of unpacking one time for a 7-night trip, getting to see more than one part of the Hawaiian Islands, getting two days in two of the ports, and more.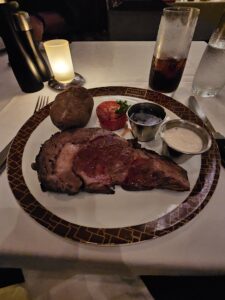 If you decide that a cruise to Hawaii is in your future travel plans, here's five must dos for you.
Stay in a balcony stateroom. Nothing beats waking up in the morning and stepping out onto your own private balcony to see the gorgeous Sunrise or the clouds moving past the lush green mountains. Make your coffee and enjoy it while watching the sailboats move along the in waters near Kauai. Depending on the time of year that you go, who knows what wildlife you might see from your balcony! I lived going onto the balcony at night and watching the stars. Keep watching and you just might see a shooting star!
Try the different restaurants on the ship. There are 7 complimentary restaurants on board the Pride of America. Feeling like a quick dinner? Grab something from the Aliha Buffet where breakfast, lunch, and dinner are served. For their dinners, every night was a different theme of food, such as Mexican and Hawaiian nights. The Aloha Buffet does closea bit between each mealtime while they switch over the food. There are also several sit-down dinners included,  even one that has a dress code. The Cadillac Diner was open 24 hours a day and was a fun option. There are also specialty restaurants on board, such as Cagney's Steakhouse, Jefferson's Bustro, a French restaurant, aboard, and teppanyaki. The specialty restaurants do require reservations. If you book under the Free at Sea Promotion, you can get two free specialty meals for the first two people in your stateroom.
If you are over 21 years of age, try the different bars and lounges. There're 7 to choose from, some have entertainment in the evenings, and they each gave their own atmosphere. The Gold Rush Saloon was a favorite place to go to for Karaoke and the Pink Champagne Bar had a gentleman playing guitar and singing the one evening I stopped there.
Check your Freestyle Daily for the show lineup in the Hollywood Theater and for events at the Mardi Gras and by the pool. We went to a very entertaining couples gameshow, the Polynesian Show, played "Binglow," attended the glow party where everyone wears white,  the staff pass out different glow stick items, and they have a DJ for dancing. We watched a sexy legs competition by the pool and some of a water volleyball tournament, There was also an 80's dance party, comedians, and even movies shown at different times. They even had port talks to give you fun facts and excursion ideas for the next day's location.
One of my favorites were the free classes in the Hollywood Theater. They had three different Lei making classes, hula lessons, workshops on Hawaiian culture and more! Even with our excursions, we were able to attend two of the free Lei making classes! We loved the Kukui Nut Lei making and the ribbon Lei classes. They even sold kits we could take home to make ourselves. For the ribbon Leisure, they had a QR code we scanned and it has videos on making the leis once you go home. We actually made some as gifts for our friends and family!
One thing about Norwegian Cruise Line's Pride of America is that you don't have a full day or days at sea. The ship sails overnight to the next port where the majority of the people disembark to spend time on the islands or the boat is docked at a port overnight. With that being said, there were plenty of restaurants, bars, and lounges to try, programs and shows to attend, a couple of shops to browse through, and fun classes to take.
Ready to start planning your next adventure?
A Mystical Dream Travel Advisor can help you begin planning the vacation of your dreams! Click here to start making memories that last a lifetime!
Like this article be sure to share with your family and friends on social media!