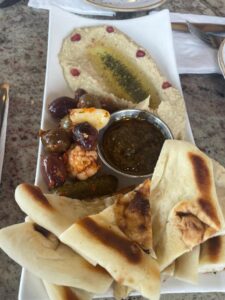 It is no secret that Epcot is the park to visit when seeking a variety of interesting and delicious eats while at Walt Disney World. To me, Epcot is truly a foodies dream come true. In addition to the almost constant flow of festivals that provide us with even more delicacies from around the globe to indulge in, Epcot has plenty of quick service, snacks and restaurants to choose from that are staples.
A strategy I frequently apply is going early and going hungry! I enjoy entering the park through the World Showcase which is perfect when staying at either a Skyliner resort or any resort in the Boardwalk area. This puts you in the perfect position for my favorite breakfast location which happens to be one of my 5 must eats.
Les Halles Boulangerie-Patisserie- Located in the France pavilion, this gem is sure to have a wide variety of taste bud tantalizing options. This gourmet French bakery serves up incredible pastries that you can pair with gourmet coffee to start your day in the most delicious way possible. If you seek a savory option, they have a variety of freshly baked baguette sandwich options to satisfy your hunger. Since you're on vacation, why not pair your breakfast with a Frose, this is frozen Cotes de Provence Rose, vodka and peach. It is sure to please and cool you down.  Pro Tip: The line may be long and intimidating but I assure you it goes quickly and is well worth it.  As you stroll through World Showcase there will be a variety of tempting treats to snack on along the way. Instead of eating a large meal after you've enjoyed your French breakfast, I suggest stopping at the next eatery on my list which happens to be a hidden gem.
Spice Road Table- Located in one of the most beautiful and picture worthy pavilions, Morocco. Spice Road Table does not accept reservations, instead you join the walk up list which is simple and effective. You have the option of indoor or outdoor dining at this charming restaurant. Here you will savor Moroccan small plates that will take you on a culinary adventure. If visiting with a large party, I suggest ordering several small plates and sharing. Some of my favorites have been the grilled lamb kefta, fried calamari and naan spreads. I always make sure to sip on the cool and refreshing Moroccan mint tea as it is truly delightful.  Pro Tip: The outdoor seating is perfect for viewing the nighttime show, dine 30-50 minutes prior to the show beginning so you can enjoy perfect views while enjoying Moroccan delicacies. Deciding to have an actual large sitdown meal at Epcot is something that I alternate between trips. As there are so many incredible food options, I almost never want to fill up too much in one sitting. Of course there are several incredible options for every occasion and taste but I will leave that for another time.
Yorkshire County Fish Shop- You guessed it! We are now in the UK pavilion and what could be more appropriate than Fish n' Chips? Your taste buds will take a trip across the pond and you'll be savoring a crispy beer battered, perfectly cooked piece of fish with piping hot chips. Wash it down with a 20oz Bombardier Amber before heading into one of the many charming shops in this pavilion where you'll find a wide array of British goodies to bring home with you. You may also catch a live British rock performance as you stroll through the cobblestone streets.  As you may be fairly full by now, it's a great time to take in some rides, explore the shops and truly immerse yourself into the various countries represented in Epcot. You'll find unique gifts, souvenirs, ornaments and snacks throughout. Once you have worked up more of an appetite and are ready for another bite, you can head over to the Mexico pavilion for a ride on Gran Fiesta Tour and my number 4 on the list.
La Cava del Tequila- With over 200 varieties of tequila to choose from, you won't be limited to just one. Perhaps the most iconic drink in the pavilion and one that keeps me coming back is the smooth and delicious Avocado Margarita. I like to enjoy this with an order of queso and chips while taking in the beauty and fun vibe of this lounge.  You may have been wondering, where are the sweet treats on this list? I assure you I have not omitted sweet delights from my must try list in Epcot. Perhaps I was simply saving the best for last. While there are many sweet delicacies throughout the park, this location stands out to me the most and is non-negotiable on any Epcot park day. I have also been known to hop over to the park just for this.
L'Artisan des Glaces- Indulge your deepest cravings and delight in a variety of handcrafted French frozen treats right back in the France pavilion where we started our day. You can not go wrong with the iconic Croque des Glace which is a homemade brioche bun filled with your choice of ice cream and sauce, then pressed warm to create a cool delicacy wrapped in a warm hug.If you seek something with a bit of a kick to cool off in a sweet way, try an ice cream martini. My favorite combination is raspberry and chocolate ice cream with Grand Marnier.

If you love trying new and exciting flavors, sampling cuisines from around the world or have your favorite staples, I assure you that Epcot has something amazing in store for you and your appetite. Make sure to contact your travel advisor with Mystical Dream Travel to begin planning your visit to Epcot.