If you are any level of a Harry Potter fan, a trip to Universal Florida to experience the Wizarding World of Harry Potter is a must-do whether you consider yourself a Muggle, a Wizard-in-Training or a Wizard.
The Wizarding World of Harry Potter is spread between Universal Studios Florida and Universal's Islands of Adventure. The best way to experience the two different sections is to purchase the Park-to-Park Tickets. I will explain more on why in my must-do list.
The best park to start off to get the full "Harry Potter" experience is at Universal Studios Florida. When you walk through the streets of London and enter Diagon Alley, you almost need to take a few minutes just to stop and take it all in.  So, here's my must-do attractions for Diagon Alley.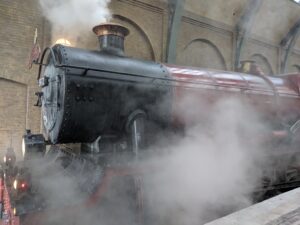 Ollivander's – This wand shop is stacked from floor to ceiling with wands just waiting to choose their wizard. There is an interactive experience if you are lucky enough to be the chosen one. Among the many wands to choose from, there is an interactive one that you can use to cast spells and create magical experiences while exploring Diagon Alley and Hogsmeade.
Harry Potter and the Escape from Gringotts – As you wind your way through the line at Gringotts bank you will see goblins hard at work. On the multidimensional thrill ride, you will see Harry, Ron, and Hermione and run into the likes of "He Who Shall Not Be Named," Bellatrix, and trolls. You may also encounter other creatures before you return to Diagon Alley. (Fun fact:  There are 62,000 crystals that make up the four chandeliers inside the grand lobby of the bank!)
After you spend some time exploring Diagon Alley and maybe munching on a Chocolate Frog, it is time to head over to Hogsmeade. The best way to get there is the Hogwart's Express. This is where the Park-to-Park ticket comes in handy. You must have one to board the train to go between the two parks on Platform 9 ¾ at King's Cross Station.
Once you disembark that train at Hogsmeade located in Universal's Islands of Adventure, again, take a few minutes to just take in your surroundings. There are shops, restaurants, and more attractions! Here's more of my must-dos.
Flight of the Hippogriff – This fun rollercoaster that spirals and dives takes you around a pumpkin patch and past Hagrid's house. Before you get on the ride, listen for Hagrid's instructions on how to approach a Hippogriff.
Harry Potter and the Forbidden Journey – To enter the line for this ride, you go through the gates of Hogwart's School of Witchcraft and Wizardry. The line takes you through familiar hallways and past Dumbledore's Office, the Defence Against the Dark Arts Classroom and more! The attraction, itself, has you soaring above Hogwart's with Harry Potter and some of his friends on an exciting ride!
Hagrid's Magical Creatures Motorbike Adventure – This is a thrilling rollercoaster that takes you flying with Hagrid into the Forbidden Forest where you might get to see some of the rarest of magical creatures! When you board the ride, you can ride the motorcycle like Hagrid or jump in the sidecar and ride along like Harry Potter. (Fun fact:  This rollercoaster is nearly a mile long at 5,053 feet!)
At some point, I also recommend that you try the Butter Beer. You can get it regular or frozen. I like the frozen version.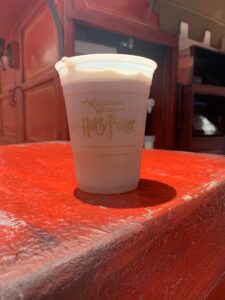 Contact us to take the journey to the Wizarding World of Harry Potter at Universal Studios Florida and Universal's Islands of Adventure to enjoy the above attractions!