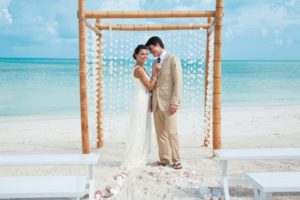 Planning a wedding can be a very stressful, time-consuming, and expensive endeavor. The average cost of a wedding in the United States has risen to a staggering $35,000! You typically must start to finalize the details as much as one year in advance due to the popularity of certain venues and vendors. It seems like a lot of work and a lot of money for just one day, but couples see the value because it is a once-in-a-lifetime event celebrating their love.
What if there was a better way? What if there was a way to have a breathtakingly beautiful wedding that was intimate, romantic, and cost a lot less than a traditional wedding? Let me introduce you to the Weddingmoon at Sandals and Beaches Resorts! You can have your wedding ceremony and reception at any of the eighteen all-inclusive resorts located throughout the Caribbean. Choose between adult only with Sandals, or have a family friendly affair at one of three Beaches resorts that offer Weddingmoons as well.
So what is a Weddingmoon? The term Weddingmoon is a registered trademark of Sandals and Beaches Resorts and it combines wedding and honeymoon into one amazing vacation experience for you and your friends and family. Have your wedding ceremony on the beach overlooking the Caribbean sea, or in an over-the-water chapel with glass panels that allow your guests to see the water below them, or even in a traditional chapel in the garden. After your ceremony you can have your reception in a variety of locations on property, including right on the beach! Once the wedding day is concluded continue your relaxation at the resort for your honeymoon. Share this time with your friends and family, or escape to a nearby resort for some alone time. There are options for whatever you prefer.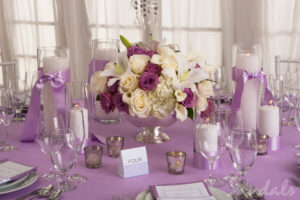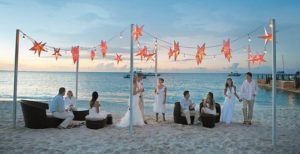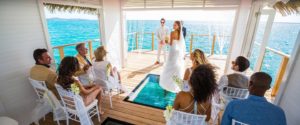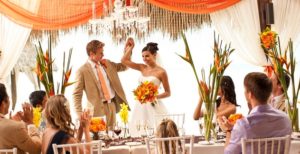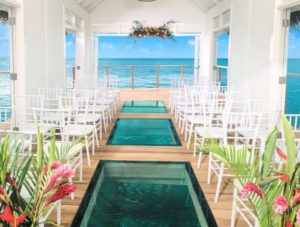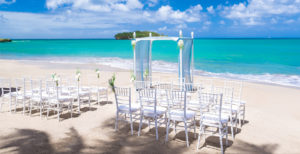 If that didn't sound amazing enough, what if I told you that an expert Sandals or Beaches Wedding Planner would help you coordinate everything—for free! If you host your wedding at one of their resorts they handle all of the planning and set up for you. They will work with you every step of the way to choose everything from the ceremony location, the decorations, even a signature cocktail. Better yet, there is no fee for the ceremony and if you choose to elope they will even provide witnesses for you.
Depending on how many rooms you reserve there are other levels of complimentary service that is included. Every Weddingmoon includes special spa services for the bride and groom,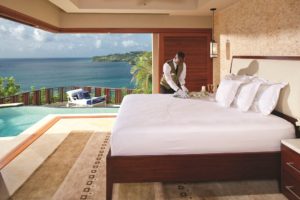 ceremony, preparation of the marriage documents, music, a sparkling wine and cold hors'doevres reception, and more. Reserve more than five rooms and also receive a complimentary one hour reception with sparkling wine, cold hors d'oeuvres, and a signature cocktail. Reserve more than eleven rooms and also receive a complimentary two hour reception with an extravagant dinner and a premium open bar. The more rooms you reserve the longer the list of inclusions, even a free honeymoon loveliest suite, with a butler, for the bride and groom!
So if you are starting to plan your wedding and feeling like there must be a less-stressful, more relaxing and affordable option, then you owe it to yourself to check out the Weddingmoon packages at Sandals and Beaches Resorts, give me a call for all the details!
Colleen@mysticaldreamtravel.com