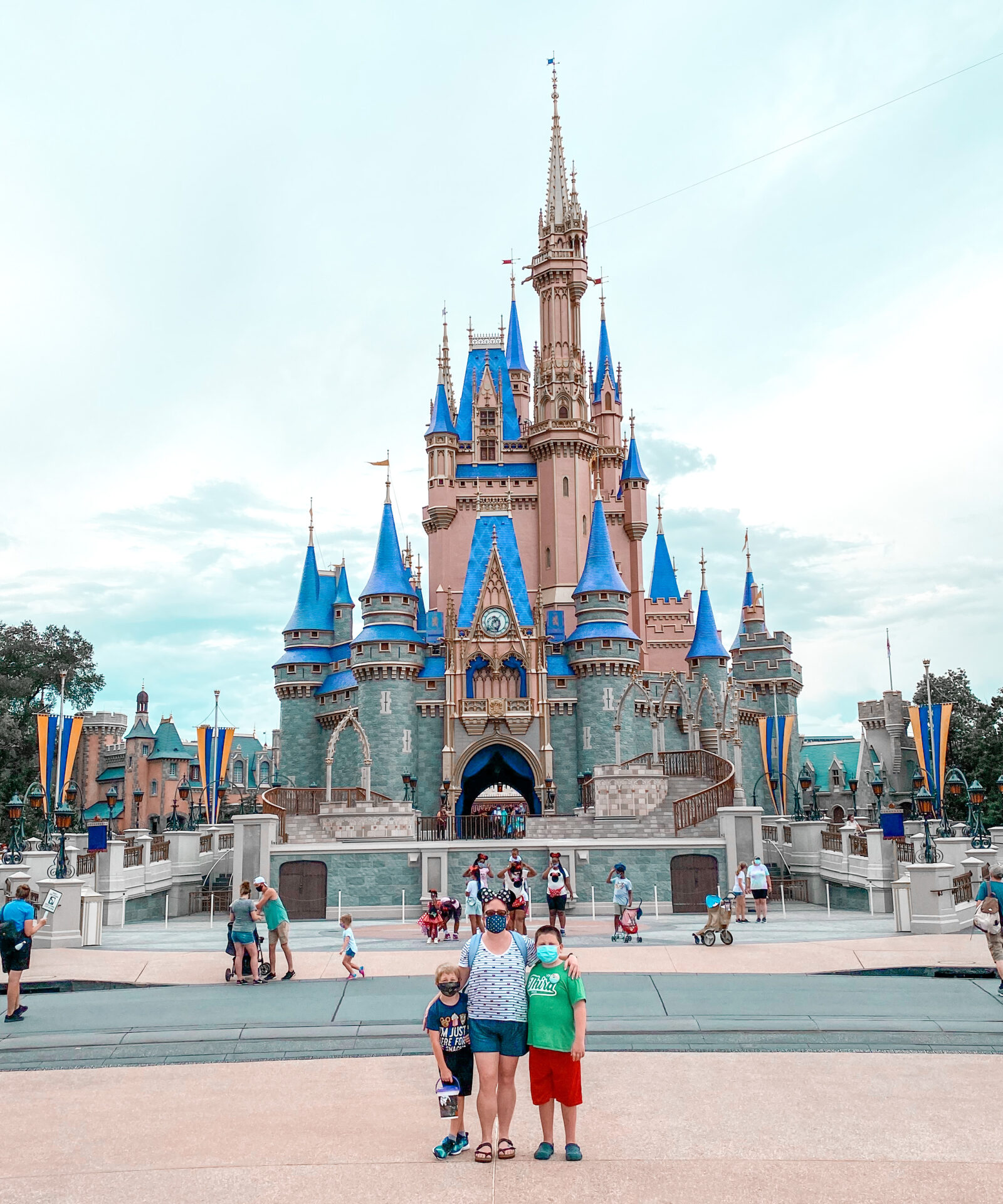 My family and I recently were able to visit Walt Disney World for a couple of days while we were in Florida on vacation. I will be honest, I wasn't sure if I wanted to go to the theme parks with all of the changes, especially the requirement to wear masks all of the time. I was worried my kids would not be able to go an entire day in the Florida heat with a mask on. But I kept watching YouTube videos of others at Walt Disney World talking about how amazing it was and how low the wait times were, and I was intrigued enough to want to check it out!
We only had two days so we decided to go to Magic Kingdom and Hollywood Studios. I made sure to prep my kids beforehand about wearing masks all day (they are 7 and 10), and we went to Disney Springs the day before for a trial run and to grab some cute Disney themed masks!
I decided we should get up early and be to the park for rope drop, just in case the weather started to warm up later in the day and people started to melt down. I figured if we got their early we would at least get in a couple of good hours before anyone wanted to leave. We ended up staying THE ENTIRE DAY! Of course, the park closed at 6pm so it wasn't as long as a normal "whole day" at Walt Disney World, but it was still surprising to me how well it went. Here are my key takeaways;
THE CROWDS WERE LOW-ISH
The first day we went to Magic Kingdom and it definitely felt less crowded most of the time, especially on Main Street and in front of the castle. But there were times of the day it still felt a bit crowded, specifically while we were in Fantasyland. However, the wait times at Magic Kingdom were still very low for the entire day, with the highest wait time being 70 minutes for Seven Dwarfs Mine Train.The next day we went to Hollywood Studios and things felt a bit more crowded. The wait times right after the park opened (which was at 10am) were quite high, and we ended up leaving and going back to our resort to swim and then returned to the park after lunch. As the day went on the crowds did die down, however, and the last couple of hours at Hollywood Studios saw much shorter wait times.
WAIT TIMES WERE SHORTER THAN POSTED
We found a lot of the wait times were actually shorter than what was posted. Several rides with a 15 minute wait time were in reality just a walk on. Some that posted longer wait times ended up being 10-15 minutes shorter in reality. Micky and Minnie's Runaway Railway had a posted wait time of 80 minutes and ended up being only 35 minutes. Only a couple of rides ended up being true to their posted wait time.
EVERYTHING WAS VERY CLEAN
I thought the Cast Members did a fantastic job of making sure everything was cleaned often and well. The ride vehicles were continually being sprayed down, as well as handrails, gates, and other touch points. There was hand sanitizer and hand washing stations all over the place. Every time you entered and exited a ride or attraction there was an opportunity to get some hand sanitizer. I have always felt that Walt Disney World is a very clean place, but they have definitely stepped it up a couple more notches.
IT WAS EASY TO SOCIAL DISTANCE
In addition to all of the hand sanitizer, everywhere there was a line there were social distancing markers. As well as several Cast Members monitoring the line and making sure guests were actually standing on the markers. At no time during our visit did I feel like I was in a crowd or too close to anyone else. Which is really saying a lot for being at Walt Disney World! It also helped with the heat since you were not too close to anyone else, so standing in line was a lot more pleasant.
THE PARKS CLOSED EARLY
Because they are not having nighttime shows or fireworks, the theme park hours are reduced and most of the parks closed at either 6:00 pm or 7:00 pm. Despite the shorter hours, we still found we were able to do everything we wanted to and got a full day in before the early closing time. Also, since the parks closed early and we were not out until late into the evening, we had more time to spend at our resort and we enjoyed a lot more leisure time at the pool and just hanging out.
FOOD OPTIONS WERE MINIMAL
Not all of the restaurants are currently open, and especially in the Quick Service category there were not as many options. I would highly recommend making dining reservations at some table service restaurants to ensure you have some nice and substantial meals during your visit. The restaurants are also operating with a smaller menu than normal, so check out the menus before you go so that you know where you can get the items you would like.For Quick Service dining you are also required to use the Mobile Ordering option on your My Disney Experience app. You will not be allowed to enter the line for food at a Quick Service location until you have placed your Mobile Order and you have received notification that it is ready to pick up. It is a good idea to set up your Mobile Orders well in advance and indicate that you are ready for them prior to walking to the restaurant as it can take several minutes for the food to be prepared. Once you pick up your food, you are able to find indoor seating at the Quick Service locations that have that option.
WEARING A MASK WASN'T THAT BAD
Having to wear a mask for hours in the Florida heat was definitely one of my biggest concerns going to Walt Disney World. Especially where my kids are concerned. I was worried it would become unbearable quickly and my kids would become uncomfortable, complain, and not have a good time. But I was pleasantly surprised to find that not only did my kids handle the mask mandate like champs, but wearing the mask wasn't as bad as I had initially feared. It did get hot and sweaty at times, but we timed out lots of breaks for water and snacks to give our faces some breathing time. Plus the lines moved so quickly that we were moving from ride queue to ride queue often, giving us intermittent time in the air conditioning often enough to balance out the heat.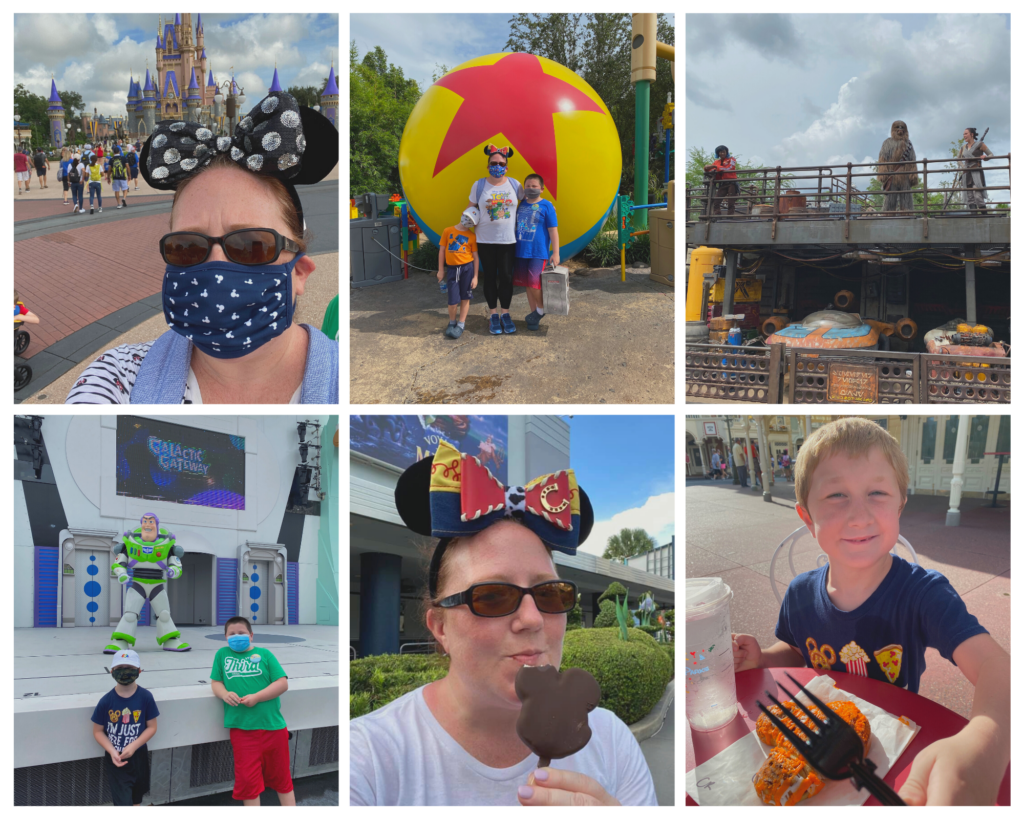 Overall our experience at Walt Disney World was fantastic and I am so glad that we decided to go check it out. I would definitely go again and recommend it to anyone who has been to Walt Disney World before, and knows they will go again once things are back to normal. It might not be the best idea for someone who is going for the first time or looking for that once-in-a-lifetime experience, but for anyone else I would say go for it!
If you have any questions about the changes at Walt Disney World please do not hesitate to reach out to us here at Mystical Dream Travel. We are happy to answer all of your questions! And when you are ready to start planning your next Walt Disney World vacation, please contact us for a free, no obligation quote. We will help take care of all the details for you so you can sit back and just enjoy your vacation! And the best part is that it does not cost you any extra to experience the VIP services of the Travel Professionals at Mystical Dream Travel.