The Bag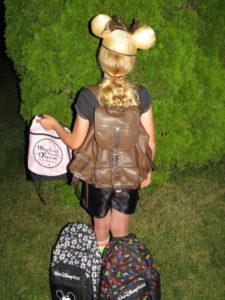 This old faithful has been on more trips than I can count. She's probably a little warmer (leather) and heavier (did I mention leather?) than ideal but it's tough as nails, has an easy access flap that I love on the go & comfy straps (VERY Important!) The Hubs & I take turns being our family's Sherpa so we each get a break. We also scored 2 of these Disney backpacks as the if you spend this much you can buy these for this reduced rate item in the stores in the parks. Next trip my kids claim they will carry these themselves ~ we'll see. They do a go job with the lighter agency cinch sacks though!
2. Ladies Your Purse
Let's talk Disney purses. When heading to the park I travel small & light. Think "minimum" Are you LOVING my new rose purse?
ID (just in case)
Cash (my preferred way to tip)
Lipbalm (with sunscreen!)
Disney gift cards (my favorite suggestion for gifts for the kids from extended family when we are Disney bound!)
Credit Card (but Nicole we have our magic bands! I know but I have seen days when the system didn't work & those that had their credit card in hand weathered that storm much easier. It may never happen again but better to be prepared.)
Emergency health kit
Disclaimer: you could get most of this at a first aid station but that would mean we have to stop having fun & well I'd rather not.
Ibuprofen or Aspirin (hubs bad knee occasionally acts up or the rare headache which is usually our body's way of saying need more water)
Any other medicines over the counter or prescription
Tissues
Band-Aids (I like the fabric kind. They are just a bit tougher but yes I toss a few picture ones in for little ones)
Second skin (the paintable stuff. Great for a blister or odd placed cut)
Moleskin (also a good bandage for blisters)
Antibacterial gel (The Magic Kingdom sees an average of 56,000 people a day. De-germing periodically is one more way to hopefully get through our visit without a sickness.)
Wipes (Apparently these are a permanent addition to my life. My kids are way past diapers but we still use these all the time. I try to find the smallest travel size.)
Sunscreen (Hubs is a redhead that burns SO easily. This is a must in my family. Schedule a reminder in your smartphone if you must to remember to reapply frequently. I once had a friend get a sunburn that resulted in sun poisoning in Disney ~ that was not a magical vacation! Wear that sunscreen!)
POWER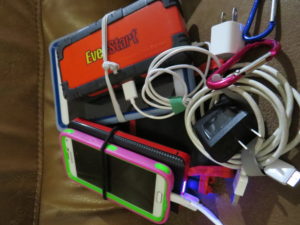 Let's just admit this is pretty important to us these days. My hubs has a smart phone & so do I. We usually have the Ipad with us for video. I'm using My Disney Experience App checking the character list, what fastpasses are available, the dining times, length of lines… you get the idea & it's draining on the battery… we're going to need to fix that later. I can remember my first trip with a smart phone and being grateful a line to meet Tinkerbelle stalled out by an outlet for me to recharge. Since then I added a rechargeable battery pack to our Disney bag. I can usually get several recharges with this cool toy. An alternative option would be a fuelrod at Disney. For a one time purchase you can buy a powered up rod & trade it for another rod as many times as necessary on your trip. The fuel rod is yours to keep.   Forgot your power, no worries, Disney has thought of that,  you can take a break and recharge you devices in locations throughout the parks.
Picture: The one on my cell is 15000mAh. The one on the Ipad is 12000mAh. Note the hair ties. It keeps the device & the charger together so the cord doesn't get pulled out while in the bag. Don't forget the cords & plugs!
My camera
Ok I realize many of you are thinking why? I think my cell takes great pics too just not as great as my camera. As an agent I end up using those pictures on blogs, advertisements, FB & other social media accounts & giving you the best pic I can is important to me. Don't forget a spare battery & memory card! If photography isn't a hobby of yours skip this one. Still want professional pics? Tired of taking the pics & not being in them unless it's a selfie? Disney has a network of photographers ready to help. Ask me about Photopass (or catch my future blog about this)
My magical carabiner
This is one of those magical mommy catch all tools. I always hang one or 2 of these on my bag. My water will hang off this for quick access in the hottest part of the day. I'll tie a kid's balloon to it later in the day, hang the magic bands off it at the end of the day (ready to go in the morning) we always seem to find a use for these on the go.
Water
Staying hydrated in the Fl heat and humidity must be top priority. Any food vendor will give you a cup of water for free just ask. A bottled water can be a snack credit on the Disney dining plan (ask your MDT agent for more details, we'll even make your dining reservations ;-) We usually carry with us a refillable filtered water bottle. Since it's filtered, I refill our bottle at any of the water fountains with tap water at the parks. Right now a few of you are thinking but I am getting a refillable mug with my dining plan. Well yes and no… check out "resort mug" next. Could you have a case of water delivered to your resort from the local grocery store? Yes but water is heavy & gets heavier as the week goes on, personally my back says pass on hauling that around but to each their own. Want groceries delivered to your resort? Ask your MDT agent about this service!
Resort mug
Unlimited refills at your resort (so it's mostly my 2nd morning coffee mug.) It is NOT unlimited refills in the parks, just at your resort & there is a bit of tech installed in that mug to keep visitors honest. Hubs won't always bring his but I'm serious about my coffee so I either need to fill my mug at my food court or get a coffee at the park first thing (& that's after my coffee I made in my room ~ side note not all resorts have coffee pots in rooms that are restocked daily. That's a moderate & Deluxe benefit)
9. Ziplock bags
This is another magic mom tool. I will stash my water sensitive electronics in here during a wet ride. My kids may take a bit of a meal with us to finish in route to the next stop. Store a wet poncho. We always find a use for these
10 Rain Ponchos
It's Florida, rain happens. Usually it blows over quickly. If it rains on your vacation I always recommend making the best of what could be perceived as a bad situation & carry on with your trip. Some of our best memories are my family laughing hysterically at how funny we look running around Disney in our ponchos. Did I mention it usually shortens the lines too? We've done the heavier reusable ones and the one-use disposables. Both worked fine. If you go with reusable bring ziplocks for them so you can put them away & hang them up when you get to your room to air out & dry. If you go with disposables make sure you have enough for your whole trip.
Small entertainment for small people
This evolves as our kids grow. We've done play packs (a small coloring book, a few crayons & stickers), legos, playdoh, little games, sketch pads, etc. What tiny distractions have you brought to redirect your kiddos?
Snack
Grumpy people on vacation is bad! Think of this as a small insurance plan. I usually have goldfish or crackers to tide them over to the end of a line or until a meal.
Maps
Yes I still pick up the paper map. Opening the paper map saves the cell battery.  By this point I shouldn't need it but even I can get turned around when I haven't had enough coffee yet. These also make cute scrapbook pages!
Sorcerers of the Magic Kingdom Cards
My kids discovered this a trip or 2 ago & have enjoyed playing a few rounds when we have more than one Magic Kingdom day scheduled on our trip. If you'd like to try it out, head over to the Fire station on Main Street and they will help you get started.
Pin lanyards
These start the day around their necks but if I'm being honest they end up in the bag. We've lost a few pins over the years. Now we get locks for the backs so I'll also have a lock key in there.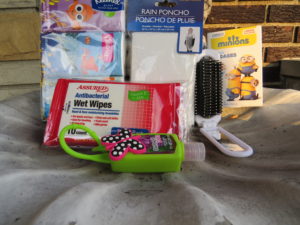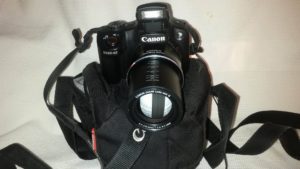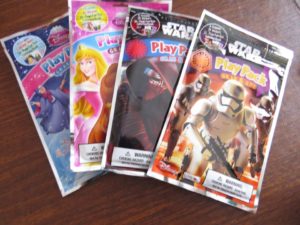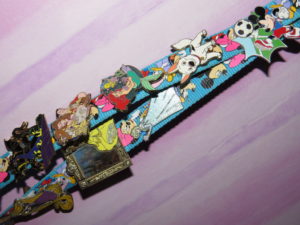 16. Sunglasses for everyone That FL sun is BRIGHT!
17. Hair brush. Hubs is against this item but he's woefully outnumbered but 3 long haired ladies.
18. Autograph Album (or other item) & a sharpie (I'm going into more detail later but my hint to you is "think outside the box" ;-)
19. Glow sticks (Want to avoid buying those pricy ones at the Park at the end of the day? Bring your own!)
20. Devices – Cells & iPad (or whatever keeps you connected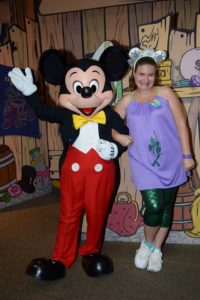 About the Author
Nicole Penrose is an Agent at Mystical Dream Travel, mother to 2 princesses & wife of her very own prince charming. She has the heartbeat of a true Disney addict from her first Disney record as a kid, her Cinderella themed wedding or her daughters' names. She loves helping her clients plan magical vacations to Disney Destinations, Universal, Cruises, All Inclusive destinations. When not at work or planning her family's next trip she enjoys time with her family, cooking & baking & anything crafty. If you need help with your next trip email Nicole@mysticaldreamtravel.com