This past week Disney revealed more details on the Disney Wish and how it will unlock enchanting family vacations in Summer 2022! We at Mystical Dream Travel couldn't be more excited to bring you all the details!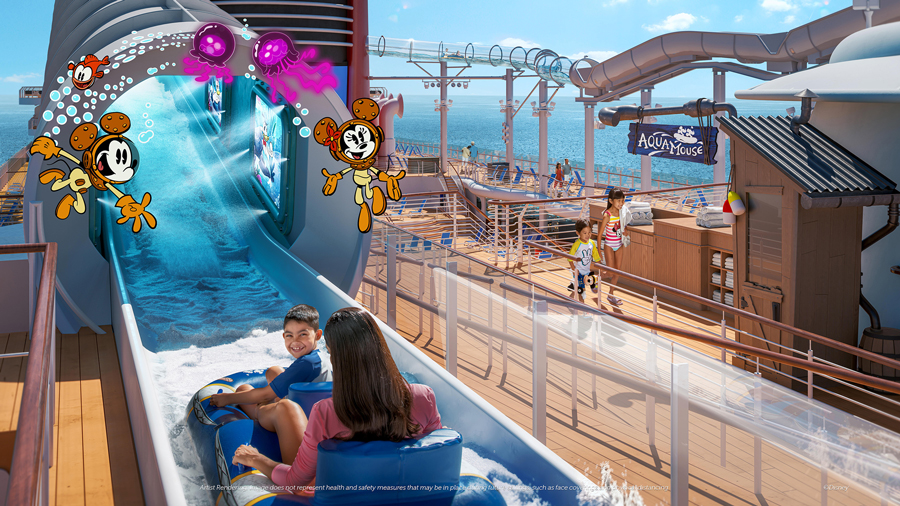 The Disney Wish is taking fun in the sun to a whole new level with a brand new family themed water attraction the AquaMouse along with three themed districts, that offer dedicated spaces for families, little ones and adults
The AquaMouse will be immerse you in "The Wonderful World of Mickey Mouse" animated shorts aboard the first-ever Disney attraction at sea. Complete with show scenes, lighting and special effects, and splashtacular surprises, this wild water ride is sure to delight everyone in the family as they zig, zag and zoom through 760 feet of winding tubes suspended high above the upper decks.
Families will have more pools, more deck space and more dining than ever before in an expansive district themed to Mickey and friends. In addition to AquaMouse, the area will feature six pools — spaciously staggered among tiered decks and surrounded by lounge chairs — and a fresh take on quick and casual fare with a festive character twist.
Little ones will delight in an all-new Toy Story-themed district designed especially for families with toddlers and young children. This whimsical water wonderland will include a splash zone, wading pool, family waterslide and smoothie bar.
Adults will indulge in sun-drenched serenity at Quiet Cove, a peaceful refuge dedicated to lounging, sipping and soaking. Set away from the bustle of family activities, this secluded adults-only district will feature a luxurious infinity pool, poolside bar and chic cafe.
To learn more about the Disney Wish contact us today!