One question that comes up often is, "Should I add the Disney Dining Plan on to my package?"  My answer is always yes. One because it really makes your vacation all-inclusive, not having to worry about extra money to pay for meals and two, when you do table service, you can pick anything off the menu you wish, that's right, if you want Filet Mignon with every table service and it's on the menu, it's yours for the eating!  The third reason I love the dining plan is that it allows you to explore different places to eat and new experiences.  Let's face it, if you looked at the prices on the menu, you may reconsider eating there!  And last but not least, the Disney Experience, there is nothing like meeting your favorite character or eating at Cinderella's Royal Castle.  The experience itself is worth every penny and when on the dining plan, it's included (note that Cinderella's Royal Table is 2 Dining credits, we will talk about that another time).  Let's break down the dining plan costs, along with an example of one day of eating at Disney.
Let's Talk 2017 Dining Prices
Below is a table that outlines the cost per night, yes that's right, the dining plan is based on per night you stay at your resort, not per the number of park tickets you purchase.  There are three (3) types of dining plans to choose from: Quick Service Dining, Disney Dining (most popular) and Deluxe Dining Plans.  Personally, I have done both the Disney Dining and Deluxe Dining Plans.
2017 Dining Plan Options

PER ADULT, PER NIGHT (adults are 10 years and older in Disney prices)

PER CHILD, PER NIGHT  (children are 3-9 years old in Disney prices)

Quick Service Dining Includes:

2 quick-service meals
2 snacks
1 refillable mug

$48.19

$20.88

Disney Dining Includes:

1 table-service meal
1 quick-service meal
2 snacks
1 refillable mug

$69.35

$24.95

Deluxe Dining Includes:

3 meals (any combination of table-service and quick-service)
2 snacks
1 refillable mug

$106.68

$38.75
The Quick Service Dining is a nice way to go if you do not plan on doing any table services or character dining.  I always recommend this one for families that like to be on the go and have no interest in sit down dining.
Disney Dining plan is the most popular and is ideal for families that really want to enjoy character dining and time to sit down and eat. We love this plan personally and purchase it often with our personal vacation package.  You can really work this plan to your advantage, as some of the snack items you can use for your breakfast and save your quick service for inside the parks.  You definitely won't go hungry on this plan.  One thing I will say Disney, does not skimp on food with your order!
Deluxe Dining this package is ideal for families that really want to enjoy all the food that Disney has to offer.  This plan is perfect for the foodie in you, the family that really wants to do a lot of signature dining or just wants to enjoy table services.  I will admit I have used this dining plan once or twice and it is a lot of food.  You pretty much need to keep your meals on the standard breakfast, lunch and dinner to maximize this plan or reserve a number of signature dining restaurants.
You are probably asking, if I paid out of pocket what would my cost look like as compared to paying for the dining plan?   Here is an example of one day of dining (not including tips for table service, one thing I forgot to mention is the dining plan does not include tips, so make sure you have cash on hand to tip your amazing cast members)
Desserts and Snacks
Quick Service Meals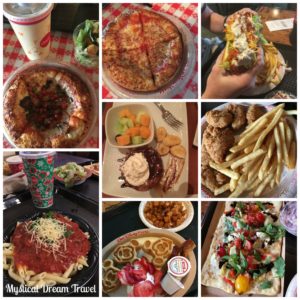 Table Service Meals
Example of One Day of Dining for family of 4 (not including tax): Everything I have listed below would be included on the 2017 Disney Dining Plan.
Breakfast at Port Orleans Riverside – Under the dining plan this would be considered a quick service.
Kid's Mickey Shaped Waffle Breakfast $5.99 x 2 = $11.98
4 Bottles of Orange Juice – $12.00 ($3 each)
Adult Mickey Waffle Breakfast $6.29 x 2 = $12.58
2 Iced Coffee – $4.69 = $9.38
Breakfast Total: $45.94
Lunch at Magic Kingdom – Cosmic Ray's Starlight Café – Under the dining plan this would be considered a quick service.
Kids Chicken Nuggets and Fries Meals – $7.19 x 2 = $14.38
Adult Meal 1 Bacon Cheeseburger with fries – 12.99
Adult Meal 1 Barbecued Pork Sandwich – $11.99
Dessert Triple Chocolate Cake – $4.29 x 4 – $17.16
Beverages – $3.29 x 4 = $13.16
Total Lunch: $69.68
Dinner – Chef Mickeys – Under the dining plan this would be considered a table service.
Chef Mickey's is an all you can eat dinner buffet. The average cost per adult is around $50.00 and for children $30.00.  Based on these prices here would be your cost:
Adult Meal $50.00 x 2 $100.00
Kids Meal $30.00 x 2 = $60.00
Total Dinner Cost: $160.00
Snacks for the day
2 Dole Whips – 10.98 ($5.49 each)
2 Mickey Premium Ice Creams $10.00 ($5.00 each)
Total Snacks – $20.98
Total Food Spend for the day:  $296.60
The average cost per day of the dining plan (the most popular) for a family of four is $188.60 per night not including tax.  The dining plan is surely worth it to get the full Disney experience and at Mystical Dream Travel we help you figure it all out and what's best for your family.  There is a lot of value in adding Disney dining to your package and will definitely add to your vacation experience.
tina@mysticaldreamtravel.com