Taking your kids on a vacation is a fun experience that will yield lots of lifelong memories, but traveling with kids can often be stressful and exhausting. The thought of traveling with your kids can sometimes even prevent you from pulling the trigger on an amazing family vacation altogether. I totally get it – I have taken my own two children on countless long distance road trips and cross country plane rides, and I have experienced all kinds of issues and meltdowns that can pop up unexpectedly.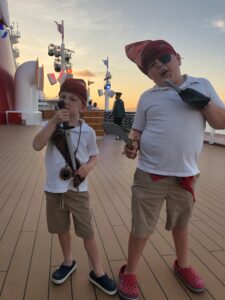 One of the more tedious tasks of air travel is going through airport security with small children in tow. I will admit, watching parents pushing a stroller, overburdened with bags, and dealing with the impatience of their kids makes me glad my kids are now old enough to not need a stroller and carry their own stuff. But there are some key things that you can do to prepare for your journey through security with small children that will make things go a little smoother.
Have all of your documents handy and organized. When traveling with kids, especially if it is international, you are likely the one in charge of everyone's ticket and passport. Having these items organized and somewhere that is easy for you to get to will help things go smoother when it is your turn to present everything to security. If you are using digital boarding passes I recommend taking a screen shot of each person's boarding pass so that you only have to have your photo app open and you can easily scroll to each person's pass. Then arrange your passports, or other IDs, in the same order that you have the screen shots.  Alternatively, if you are using paper boarding passes, I like to take each person's printed boarding pass and place it in the ID page of their passport book. So all you have to do is flip it open and everything they need to see is right there. I like to keep all important travel documents in a folder with pockets that I can easily tuck inside my carry on bag. That way everything you need is in one place and easy to get out when you need it.
Try to have as few carry on bags as possible. I know, I know, this is a hard one ESPECIALLY when you have young kids. The amount of things you need for them can be a lot, but I highly recommend you really scrutinize what you absolutely have to have and resist the urge to bring it all with you on the plane. Pare down that diaper bag and put some of the items you don't really need on the flight into your checked luggage. And then take it a step further by using the diaper bag as your purse so that you are only carrying one bag.  Speaking of checked luggage, I highly recommend you do that too. Trying to bring everything you want in carry-on suitcases for an entire family will definitely make your airport experience less enjoyable. I know it is extra money, but in my opinion it is money well spent. Get the biggest bag you own and put as much as you can in it (careful not to exceed 50lbs) and limit what you carry on to the plane to just what you absolutely have to have on the flight.  Babies will require a few more items than older kids, but still only pack the diapers and bottles you will need for the duration of the flight, plus a couple extras just in case of delays. A couple of snacks and wipes are a good idea for any age child. Limit toys to just a couple and try to have them be small toys, or even coloring books or a tablet. The less stuff you have to schlep with you through security the easier it will be.  If you are bringing a stroller, bring a small umbrella stroller instead of a larger one. A cheap umbrella stroller for travel is a great investment and so much easier to navigate and deal with in the airport. I also recommend using backpacks instead of tote bags or rolling luggage. For older kids they can even each carry their own backpack with their own stuff for a little lesson in responsibility.
Have a buddy system. If you are traveling with other adults, have each adult be responsible for one child. If you set this plan up ahead of time and make sure the kids know which adult they are to stay with, then you do not have to be constantly worried about where each child is and whether they will get lost. Do not feel like just because you are the mom or dad that you have to wrangle three kids by yourself. Make it clear to the other adults that you need their help and what they will be responsible for doing.  If you are traveling with multiple kids by yourself, put one of them in an umbrella stroller if possible. Make sure you have a talk with the kids ahead of time about what to expect and the importance of staying with you and keeping up. And also what they should do if they become separated from you. I tell my kids to look for a police officer or an airport employee. I point out their uniforms and name tags when we get to the airport so they know what to look for.
Give yourself extra time. This is a good idea no matter who you are traveling with, but the more time you give yourself the less stressful it will be if there are any delays or long lines. You never know how busy security, or the airport in general, will be on any given day at any given time. I recommend arriving to the airport at least 3 hours ahead of your flight time for international, and 2 hours for domestic.
A few additional things to keep in mind when traveling with young kids:
While I have yet to be asked for proof, I always travel with either my children's passports or their birth certificates just in case I am asked for documentation.
Kids under 12 do not have to take their shoes off when going through security. Kids also do not go through the full body scanner. Kids, and the adult accompanying them, will go through the traditional metal detectors instead. You do have to remove babies from a carrier when going through the detector with them.
Even though you are not allowed to bring a container of liquids over 3oz through security, there is an exception for formula, breast milk and juice for infants or toddlers in reasonable quantities. Keep in mind, though, that TSA may have to test the liquid or open containers to verify what they are. You will remove any bottles of liquid from your bag so they can be screened separately.
Traveling with kids can truly be a rewarding experience and it does not have to be anxiety inducing if you make a solid plan, stay organized, be flexible, and remember to have some extra patience. And always remember to bring snacks for everyone! ;-)