Universal Orlando is known for it's thrilling rides and exciting entertainment, but there is also a lot of amazing food there too! With two theme parks, one water park, and a dining and shopping district, there are lots of fantastic food options no matter what your taste or budget.
Here are our top 5 MUST EATS while vacationing at Universal Orlando with your family!
#5 – Lard Lad Donut
Who doesn't love donuts? This iconic treat can be found in Springfield, or The Simpson's area at Universal Studios theme park and are large enough to share with your friends. The pink sprinkled giant donuts can be enjoyed as is, or for an extra tasty treat get a Brain Freezin' D'oh-Nut Sundae! A pink sprinkled donut cut in half, and in between the two ends soft serve ice cream and one topping.
#4 – Jerked Mahi Sandwich at Kohola Reef Restaurant & Social Club
Volcano Bay is one of the best waterparks I have ever been to and the tasty food is just another thing that sets it apart. Kohala Reef is the main Quick Service dining option at Volcano Bay and offers some unique and exotic dishes, such as the Jerked Mahi Sandwich. It features a jerk seasoned mahi mahi, cucumber mango basil slaw, lettuce, tomato and sriracha mayo on toasted coconut bread. For something different, get the yucca fries instead of traditional potato ones!
#3 – Cheeseburgooshi at the Cowfish Sushi Burger Bar
f you are having a hard time deciding between having cheeseburgers or sushi for dinner, then you are in luck! Because at Cowfish Sushi Burger Bar you can enjoy both in a truly unique and delicious way. This fusion of burgers and sushi might sound strange, but I assure you that it is a fantastic combination!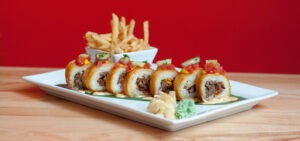 For those who are not as adventurous you can also enjoy tasty burgers in their normal form, as well as more traditional sushi rolls. Don't miss the larger-than-life fish tank featured in the restaurant, complete with actual cowfish!
#2 – Milkshake at Toothsome Chocolate Emporium & Savory Feast Kitchen
This restaurant is one of the most popular in Universal's City Walk, but this Steampunk themed dining experience is most famous for the over-the-top milkshake creations. Each one is towering high with tons of toppings and decorations. Choose from fun flavors like Strawberry Cheesecake (sour cream ice cream, cheesecake, graham crackers, fresh whipped cream, chocolate dipped strawberry), Cookie Jar (Vanilla ice cream, Oreo®, oatmeal, and chocolate chip cookies, fresh whipped cream), and Key Lime Pie (Sour cream ice cream, sweet condensed milk, lime juice, lime sugar, lime garnish). And each one comes in a plastic, souvenir cup you can take home!  Pro tip: Don't want to have a full meal at Toothsome or can't get a reservation? You can still enjoy one of their milkshakes by going into the confectionary store and ordering from the shake bar to take your milkshake to go!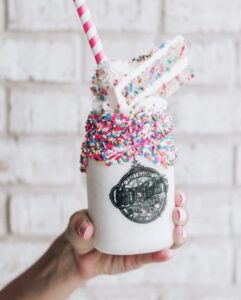 #1 – Butterbeer
While it is true that Butterbeer is something you drink and not eat, there are actually a variety of ways you can enjoy this butterscotch-cream concoction from the Wizarding World. There are actually a total of six ways you can indulge, and they are not all in drink form!
Enjoy a true Butterbeer drink the original way, which is cold, or take it a step further and have it frozen. But when the weather turns chilly you might prefer it hot, and it is only available this way during the winter months. If you prefer to eat your Butterbeer you can find it as a sweet treat in fudge form or as an ice cream flavor at Florean Fortescue's Ice Cream Parlor in Diagon Alley. But perhaps the most unique way to enjoy it is as Potted Cream, a smooth and creamy traditional British treat, which is available at the Leaky Cauldron or the Three Broomsticks.
Make sure you put these on your list for your next Universal Orlando vacation! Want more tips and suggestions on how to make your Universal vacation amazing? Be sure to contact one of the Mystical Dream Travel agents to take advantage of their expert planning services!