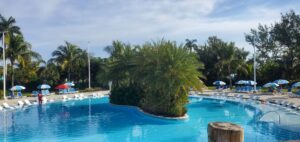 Coco Cay is one of my favorite islands to visit!  I've been there multiple times before & after the Perfect Day enhancements.  I can tell you there is plenty to do for adults & kids, alike.  Here are 5 must-dos for the kiddos.
Take a stroll down to South Beach for some fun beach games. Here you will find beach volleyball, a basketball court, corn hole, life-sized pool, & life-sized Connect Four.
For younger children, you may want to check out Captain Jill's Galleon and Splashaway Bay, both complimentary. Captain Jill's is a splash pad area for the littlest travelers.  Splashaway Bay is Royal Caribbean's signature waterpark (also on a smaller scale on select ships), which includes fountains, sprinklers, geysers, 5 small slides, & 2 drench buckets.
For the older kids, you may want to take them to Thrill Waterpark, where they can climb Daredevil's Peak & take a plunge down the tallest waterslide in North America. Thrill Waterpark also has a wave pool.
Take them for a 1,600 ft. ride across the island on the zip line, where they can soar with the seagulls high above the wave pool, Skipper's Grille, & lagoon.
Time to chill? Head over to Oasis Lagoon, the largest fresh water pool in the Caribbean.  Take then to the kid-friendly sloping side entry with fountains, in one area.  Also, take a dip beneath the water's surface to hear some Caribbean tunes played underwater!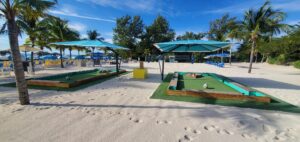 Ask your Mystical Dream Travel Advisor how you book your next Royal Caribbean Cruise Vacation!