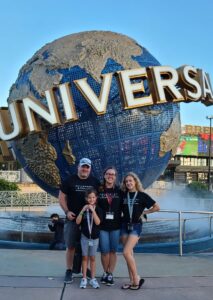 Universal Orlando is home to two of the top 5 amusement parks in the world. Covering just over 200 acres of land, Universal Studios and Islands of Adventure are jam-packed with a ton of fun and entertainment!
Here are my Top 5 Must-Dos at Universal Orlando:
You MUST get your picture taken in front of the iconic Universal sign! Make sure that your photographer times it just right so that you can see the word "Universal" as the globe spins.
Make your way over to Springfield in Universal Studios and order a donut from Lard Lad Donuts. This pink-iced donut is so big, you can share with your friends!
The Wizarding World of Harry Potter is my favorite area in Universal Orlando! The first purchase you need to make in Diagon Alley is a frothy cup of Butterbeer. This butterscotch-flavored beverage is served hot, cold or frozen. You can also find butterbeer flavored ice cream at the very popular Florean Fortescue's Ice-Cream Parlour. Personally, I enjoy drinking the frozen version of the drink in the Florida heat.
Witness a young witch or wizard being chosen by a wand at Ollivander's Wand Shop. While there are two locations – one in Diagon Alley and one in Hogsmeade – the true Harry Potter fan will enjoy the experience in Diagon Alley much more as that is where the wand shop is located in the books by JK Rowling. Even if you are not chosen by a wand, you are still able to purchase an interactive wand to use to cast spells throughout the Wizarding World.
Don't forget about all of the thrill rides – especially my favorites located in Islands of Adventure! My top 3 thrill rides in the park are The Incredible Hulk Coaster, Hagrid's Magical Creatures Motorbike Adventure and Jurassic World VelociCoaster. Just a fair warning – the VelociCoaster is intense and not for the new-to-coasters guest!!
To plan your Universal Orlando Resort vacation contact us today!