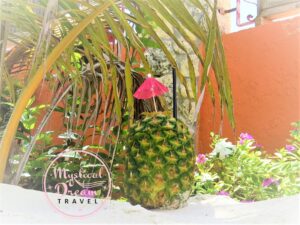 Perfect Day at Coco Cay is Royal Caribbean's own private island located in the Berry Island Chain of the Bahamas.  The island is actually called Little Stirrup Cay, but Royal Caribbean renamed it Coco Cay and a few years ago they did a $250 million renovation and renamed it again to Perfect Day at Coco Cay.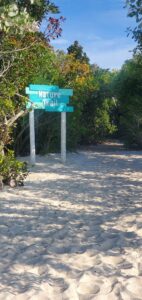 Here are 5 Must-Dos When Visiting Perfect Day at Coco Cay:
Grab yourself a Coco Loco! This is the official drink of the island & you can get it with love (rum) or virgin.  It's a frozen concoction of coconut, papaya, pineapple juice, grenadine, & orange juice.
Head down to South Beach & hang out at the floating bar! It's a floating tiki bar several yards off shore & it's a big hit on the island.
Take a walk down the Nature Trail. The nature trail is a relaxing walk through the palm trees & other foliage.  Most of the trail is covered in sand but you may also encounter some coral.  This trail runs behind The Cove & South Beach areas of the island.
Rent a floating beach mat! For a small fee, you can snag a mat & float in the ocean all day long.  We recommend floating in the water at South Beach or The Cove, as this area of the island is very calm & serine.
Ride the tram around the island. Taking a tram ride around the island is a great way to see all the different areas.  You can stay on for a full ride, or hop on & off at various stops along the way.  The tram stops at Chill Island, Oasis Lagoon, Up Up & Away, Coco Beach Club, South Beach, & Thrill Waterpark.
To learn more about Royal Caribbean Cruise Line reach out to your Mystical Dream Travel Advisor today!