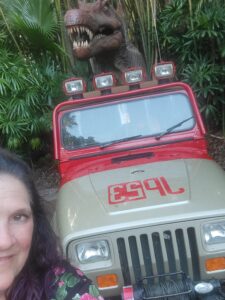 Universal Orlando Resorts has a lot to offer as a vacation destination! There are two theme parks, Universal Studios and Universal's Islands of Adventures, and one water park, Universal's Volcano Bay. When I recently stopped there, I found many hidden gems within the two theme parks and thought I would share five of them with you!
If you ride the Rip Ride Rockit, located in Universal Studios Orlando, you get to select a playlist of songs to listen to while riding. Did you know that after you buckle in, if you press the logo button for 5-10 seconds, then enter in any three digit number, you can pick through a secret playlist?
For the Harry Potter fans, you can actually make a call from the red phone booth in front of Kings Cross Station. Most people think it's just a great photo opportunity, which it is, but few know to pick up the phone and dial MAGIC (62442) to hear a special message from the Ministry of Magic!
In Diagon Alley, at Gringott's Money Exchange, you can change your Muggle Money (dollars) for Wizarding Currency to be used anywhere in Diagon Alley, Hogsmeade and certain locations in the two parks! Be sure to ask the gremlin a question while he's processing your transaction. He might respond gruffly, he's a gremlin after all! Not sure what to ask? Ask him about the dragon in the alley! If you don't spend all your Wizarding Currency, you can go to Guest Services and change it back over.
Are you a Steven Spielberg fan? He can be found featured in a couple different locations throughout the park. Mr. Spielberg makes a cameo appearance as a character on the Simpson's Ride standing in line at a restaurant at the beginning of the show. You also will see him in the Men in Black: Alien Attack ride. After you go through the training session, look for an alien wearing a baseball hat reading a newspaper. If you "zap" this alien, he will lower the newspaper and reveal his true identity!
On the way to ride the Jurassic World VelociCoaster, I had to stop to take a photo or two of the Jurassic Park Explorer. Yes, it's because I am a Jeep fan, but the vehicle is an actual prop from the movie (and who doesn't love a photo op with a dinosaur)!
I hope you take an opportunity to visit Universal Orlando resorts and share with me some of the hidden gems that you found while you were there! I have a few more that I know of but don't want to give them all away!  To learn more about a Universal Orlando Resorts contact us today!