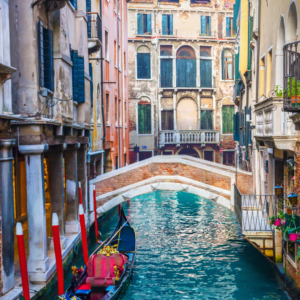 Italy has it all! Charming villages, must see tourist attractions, sprawling vineyards, sun kissed beaches, luxury shopping, decadent eats, medieval hilltop towns and I'm just getting started. You can get lost in the architecture, art and history in various regions of this beautiful country or indulge in luxury while you visit villas, listen to operas, take private sunset cruises in Lake Como or the Amalfi Coast and shop at some the finest stores in the world.
Ideally you would spend a month in Italy but let's face it, that is usually unrealistic for most, which leads me to my first consideration for any Italy trip.
Decide on what is most important to you when vacationing in Italy. Of course you can have more than one focal point but do you want to see as much art, architecture and historical sites as possible? Then perhaps Venice, Rome & Florence will be at the heart of your trip. Maybe your dream is to spend your days luxuriating in the Italian Riviera or living your best life in the Amalfi Coast while visiting Capri, Positano & Sorrento. This is not to say that Rome & the Amalfi Coast are not doable in the same trip but knowing what you want out of your vacation is crucial when planning and ensuring the most efficient travel plans.
When do you go? Much of this depends on your personal availability with work and family obligations, however in an ideal situation you would want to avoid the absolute height of peak season yet still go when the weather is beautiful across the entire country. April-June or September-October are excellent choices which also carry the benefit of lower crowds at the highly sought after tourist attractions as well as being kinder on your pocket book.
With designers like Bottega Veneta, Versace, Gucci and more hailing from Italy, it is no secret that Italy and impeccable fashion go hand in hand. It is however important to keep in mind what your trip entails and the sites you are visiting. Many Italian villages and towns are studded with charming cobblestone streets meaning it may be a good idea to leave behind those Italian stilettos and opt for a more comfortable style so you can enjoy exploring. Another consideration is to be mindful of the type of attraction you are visiting such as various churches or the Vatican where you'll want to be dressed modestly. It's a great ideal for women to bring a shawl or scarf to cover your shoulders and chest while inside. Pro Tip: There are plenty of amazing shops to find lovely Italian silk scarves that will serve the purpose and make a wonderful memento to bring back home.
Gastronomy is a huge component of any Italian vacation even if your main focus is not food and wine. Be prepared for service to look different than it does in the US. Things move at a slower and non rushed pace. One important consideration is tipping. Tips are generally included as servers make a normal wage and you are not expected to leave a tip. Having said that, you should expect a ''Coperto' of 1-3 Euros at most dining establishments. This is essentially a flat cover charge that goes towards bread service and table setting.
Vacationing in Italy is an incredible experience and offers something for everyone. As with any international destination that you visit it is important to be aware of the customs and some basic Italian expressions. Reach out to your Mystical Dream Travel Advisor to plan a customized European vacation.