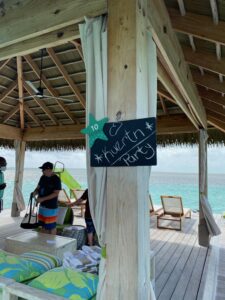 A Caribbean or Bahamas cruise on Royal Caribbean Cruise Line is usually going to include a stop at one of their gorgeous private islands. These islands are an oasis of relaxation and provide the perfect setting for an amazing beach day. The most popular of their private islands is Perfect Day at Cococay, which underwent extensive renovations a few years ago to transform it into one of the most amazing private island escapes in the Caribbean!
One of the amenities you can book on these private islands is a private cabana. A cabana is a covered shelter that also will provide you with reserved seating and often other special perks. There are many different cabanas to choose from so it is important to consider all of the options when choosing. The private cabanas are also very popular and often sell out, so I recommend booking a cabana as early as possible. Usually cabana booking on a Royal Caribbean Cruise will be available starting at six months prior to your cruise, but sometimes earlier than that so be sure to check your Cruise Planner regularly.
Here are my top 3 reasons why you should consider booking a cabana on your next Royal Caribbean Cruise;
Guaranteed Seats and Shade – On any popular beach there is usually a mad dash for people to claim the best seats, and in particular any seats that are in the shade. Some people plan on being the first ones off the ship just to ensure they have the best choice in seats. If you book a private cabana you don't have to worry about that! You can start your day stress free and disembark at your leisure, since you know you already have chairs in the shade reserved. Also you don't have to worry about losing your seats if you leave and go enjoy another part of the island for a while, or while grabbing lunch or enjoying your excursion. The cabana is yours for the entire day!
Special Perks and Amenities – Cabana rentals will come with towels and a cooler with water and even floating mats to use for the day, and some cabanas offer even more than that. On Perfect Day at Cococay you can rent a Thrill Waterpark Cabana that includes admission into the Thrill Waterpark, or if you book one of their Over The Water Cabanas in the Coco Beach Club area you even get a special lunch menu and a Cabana Attendant that will bring you anything you need!
Have A Dedicated Hub For Your Family – When traveling with older kids or a larger group it can be challenging to organize and keep everyone together. Every person has their own interests and then you can't find each other later on. If you rent a Private Cabana you have a designated spot that everyone knows and makes it easy for everyone to go out and do their own thing and then meet up again in one central place. There are larger cabanas that can accommodate 6, 8, or even 10 people so if you are traveling with friends or extended family you can go in on the cabana together and everyone gets to enjoy it.
A private cabana is a great way to make your beach day that more memorable and enjoyable. No matter which area of the island you want to spend your time, there is a cabana option for you. Enjoy the beautiful view of the ocean, sipping a cocktail in the shade, and be pampered! After all, you are on vacation!
For more information on Royal Caribbean cruises and their private island escapes, be sure to reach out to one of the agents at Mystical Dream Travel for a vacation consultation.