S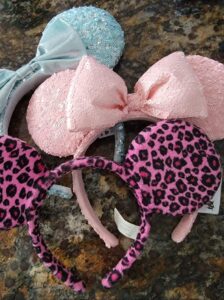 o, you've got that amazing vacation planned to the Walt Disney World Resort. Your plans are coming together perfectly, with the help of your Mystical Dream travel Advisor. The date of your trip is fast approaching and now you've got to think about packing. Here's 10 of my must pack items for a trip to the Walt Disney World Resort.
Comfortable Shoes
A trip to the Walt Disney World Resort involves lots of walking. I googled it, the average guest walks more than five miles each day. Ok, those sandals are adorable with your outfit, but can your foot handle lots of steps in them? I always pack a couple of pairs of tennis shoes to wear while I am there. You can get cute ones and even color code them to match your outfit!
Shorts/Skorts/Long Pants
I recommend packing a variety of shorts, skorts and pants so that you can be prepared for the different weather depending on the time of year you go. I have had days where I started in shorts or a skort in the morning and changed into long pants once the sun went down. One of the trips that we went to the Walt Disney World Resort in December, it was so cold that there were icicles on the fountain outside of the Muppet Vision 3D attraction! That was a perfect day to have long pants packed!
Magic Bands
Be sure to pack your Magic Bands so you can use them for your room key, your park passes and to swipe to keep your PhotoPass pictures! You can reuse ones from past trips and tie them into your trip using the My Disney Experience application. You can also purchase new ones through the My Disney Experience app or from the Disney Store before you go. I usually reuse my Moana band (now I'm breaking into song, "Make Way for Moana!") but on my last trip, I have to admit I purchased one of the 50th Anniversary Magic Bands!
Suncscreen/Sunglasses
One of the best things about the location of the Walt Disney World Resort is that it is in SUNNY Florida! I have been there during all four seasons and can tell you that it can be very warm, in fact, warm enough to swim, even in winter. With that being said, any fair skinned family member will appreciate it when you pull out that bottle of sunscreen so they don't get sunburnt on the first day of vacation! Don't forget to take your sunscreen into the park with you so that you can reapply it throughout the day. And, with that bright sun shining up in the sky, it's a great idea to pack a pair of sunglasses. As I get older, it seems that my eyes are more sensitive to bright light. And, if you have your sunglasses on, you look pretty cool when your family members snaps that unexpected photo with you in it!  Don't forget the case for them so you have a safe place to keep them when you are on the rollercoasters.
Water Bottle/Reuseable Straws
Did you know that you can take refillable water bottles into the parks? They are allowed as long as they are not glass and they cannot contain any alcoholic beverages. There are water fountains located throughout the parks that you can use to refill the bottles. You can also get a free cup of tap water at all Quick Service food locations. Disney replaced all their plastic straws with paper straws a few years ago. Reuseable straws come in handy since they hold their shape the entire time you are sipping on your Dole Whip and save eliminate some of the plastic waste that ends up in our landfills. I read where the replacement of single-use straws and plastic stirrers at the Walt Disney World Resort amounts to a reduction of more than 175 million straws and about 13 million stirrers annually!
Phone cables and Portable Chargers
Be sure to pack your phone charging cables and portable phone chargers. If you are like me, you are snapping a photo or short video every few minutes so my battery tends to run low before I am ready to leave the parks for the day and I certainly don't want to leave to go back to my resort to charge my phone. So, be sure to pack a few portable charges (and have them charged before you go to the park) to keep your phone charged so you don't miss those great photo opportunities!
Rain Poncho/Jacket
If you've been to the Walt Disney World Resort, you know the chances are pretty good that on at least one day there might be a brief rain shower. I have also been there when it rains for a good part of the day. But, I don't let that stop my fun, I pull out my rain poncho and continue enjoying my time in the parks. Ok, I am also a wimp and have been known to pull a poncho out before I get on Splash Mountain in the Magic Kingdom (I believe there is picture proof out there somewhere of me doing that). I also highly recommend taking a jacket or a hooded sweatshirt to put on during the evening. Once the sun goes down, it can get a little chilly in the parks and especially while you are racing along on a rollercoaster!
Money/Credit Cards/Gift Cards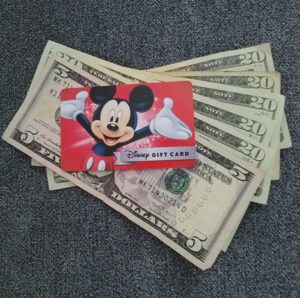 Don't forget to pack whatever form of payment you are taking. When I go to the Walt Disney World Resort, I always tell myself that I don't need to buy anything while I am there. Right. I always try to get the latest Pandora Charm, that cute Minnie Mouse jean jacket, new Minnie Mouse Ears, something Stitch for Kari and a Christmas ornament or three or six. I always bring home a few (dozen) rice crispy treats and a few of the candy apples. The apple pie apple is one of my favorites! I recommend to my clients that are taking gift cards to purchase them at a grocery store or some place where they can get additional perks.
Minnie Mouse Ears
If you have Mouse Ears, it's fun to take ones that you currently have with you and coordinate them with different outfits or with the different seasons that you are celebrating at the Walt Disney World Resort. I have a few favorite pairs of Mouse Ears that I pack every time I go. I also have Halloween and Christmas ones that I take when I am going for the different celebrations. I have been know to pack Mouse Ears that go with different shirts and outfits. My Mouse Ears are usually the first things that I put in my suitcase!
Backpack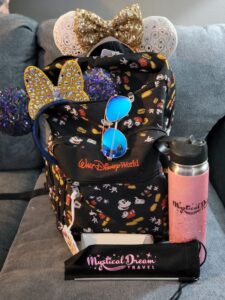 I know you are looking at my must packs and thinking to yourself, how does she carry all of that stuff in the parks? Well, I take a backpack! I love having my backpack along to keep all my stuff organized. I have a place for my refillable water bottle and reuseable straws, room to keep my jacket and poncho, a pair of long pants (if I think I might need them), my phone cords and portable chargers, sunscreen and sunglasses and even my sunglasses case! I can put in my wallet with whatever form or forms of payment I am taking. There's also room in my backpack to keep my Mouse Ears safe when I go on the different rides! You can even pack some other essentials that you might need, like pony tail holders for your long haired companions, some of the rice crispie treats you bought earlier so you can have a snack on the go if you don't want to stop to eat!
I am sure you are thinking that these items take up a lot of room in my suitcase so how do I have room for the essential items, such as clothes, makeup, etc? I use my backpack as my carry-on and travel with some of the items stored in there. I am usually cold on an airplane so tend to keep my jacket with me and wear it while flying. I wear one of the pairs of comfortable shoes and pack the others. I hope you found at least one of the above items useful and that you use one or all of my suggestions the next time you make a trip to the Walt Disney World Resort.
Ready to Plan your Walt Disney World Vacation – Request a quote today  https://mysticaldreamtravel.com/contact/