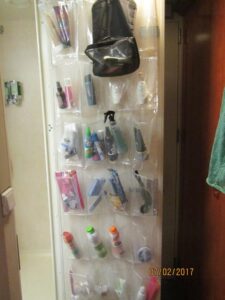 One of the most popular questions we get when it comes to a cruise vacation "What should I pack?"  I am sharing my list of 10 Must-Packs when it comes to packing for a cruise vacation!  These are items I personally take with me on every cruise!
Over the door shoe organizer:  But, this will not be used for shoes, it will be used for toiletries.  A cruise ship bathroom is typically not very big, therefore, don't expect very much counter space, either.  So, by packing the shoe organizer for all of you toiletries, you free up valuable counter space, as well as keep thing neatly organized & easy to find.
Mini alarm clock: There are no clocks in cruise ship staterooms.  So if you want to have a clock to look at, other than your phone, invest in a small alarm clock.  We take a mini battery operated one that was very inexpensive.
A nightlight: It can get pretty dark inside your stateroom at night.  If you like it being pitch black, then you'll enjoy it.  But if you would prefer to have a bit of light to see if you need to go to the bathroom, take a nightlight with you.  Otherwise, you'll be leaving the bathroom light on all night with the door cracked open.
A power strip: There aren't many outlets in the staterooms, so it is wise to take a power strip (not a surge protector, as this will get confiscated) to plug in your phone chargers, camera charges, & whatever else you may need an outlet for.
Waterproof bag for water excursions: We enjoy going on water excursions like snorkeling or jet skies.  Problem is, your bag can easily get wet.  So, it's wise to invest in a waterproof bag to hold your belongings.
Downy Wrinkle Release: There are no irons on cruise ships & you cannot bring your own. So, a simple solution to this problem is to take a travel size bottle of Downy Wrinkle Release.  It works wonders!
Refillable Water Bottle: My family likes to take refillable water bottles so we don't have to make so many trips to the water fountains & use the small cups in the buffet. It's also great to have them on excursions.  You just have to be sure the bottles are empty before going through security to go back on the ship after your day in port.
Insect repellant: You typically will not need this while you're at sea. But, it is wise to have when exploring the islands for the day.
Magnetic Clips: All of the walls on a ship are magnetic. So, we like to take magnetic clips to hang up the daily itinerary (Different lines have different names for their itineraries.  On Royal Caribbean it is called the Cruise Compass.  Carnival calls it the Fun Times.).  Some folks also like to take along a highlighter to highlight the activities they would like to partake in.  I guess #9 is a 2-for-1 tip!
Cash: And of course, do not forget to take cash. While the ships use a cashless system, places in port may not.  It's wise to take some cash to tip people in port or use at the straw markets.  We also like to tip a little extra to the crew members on board for their excellence in service.  (Photo is my family with our waiters, Raoul & Yury, on Symphony of the Seas in 2019.  We have a tradition of taking photos with our amazing waitstaff after the last dinner.)
To learn more about cruise vacations, contact us to schedule your complimentary vacation planning session today!