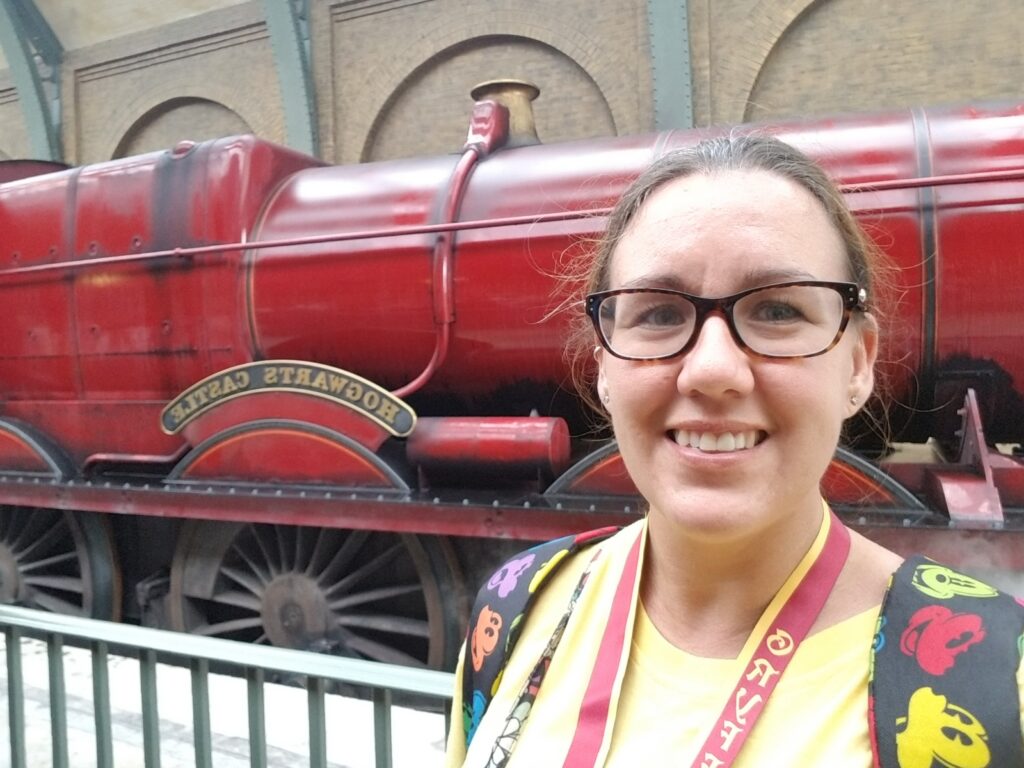 1. Stay at a Universal Orlando Resort
One of the benefits of staying at a Universal Orlando Resort hotel is Early Park Admission to The Wizarding World of Harry Potter. Guests staying on-site have access to the Wizarding World up to one hour before the park opens. This is a great time to take some amazing pictures and skip the long lines at some popular attractions.
2. Visit Ollivanders Wand Shop
You may get selected for Ollivanders Wand Ceremony! This experience is like no other!! A wand-maker (possibly Mr. Ollivander himself!) will choose one guest and present them with a wand, inviting them to try out some spells. I'm not going to give it away, but after multiple attempts with different wands, the young wizard will be chosen by a wand. Not everyone will get selected for the wand ceremony, but you are still able to purchase a wand in the shop.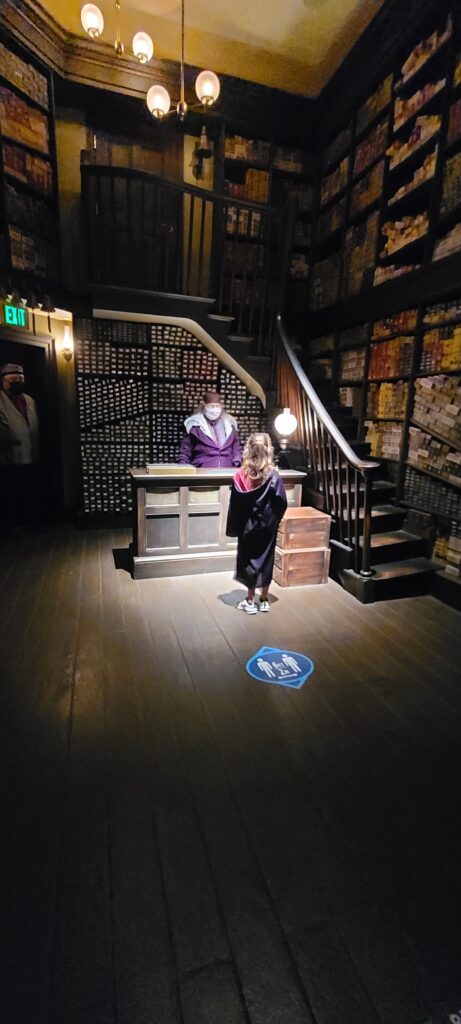 3. Cast spells using your interactive wand in Hogsmeade, Diagon Alley and even Knockturn Alley
Locate the gold plates on the ground throughout the Wizarding World (there is a map in the wand box) to cast spells that will make it rain, start a music box at Dervish and Banges, silence a creature at Magical Menagerie, along with many more!! There are 25 spell locations on the map plus some secret locations to be discovered!
4. Purchase a Park-to-Park ticket to ride the Hogwarts Express
The Hogwarts Express runs between Diagon Alley (in Universal Studios) and Hogsmeade (in Islands of Adventure). The only way you are able to board the train is with a park-to-park ticket. And make sure you ride the train in both directions as the experience is different each way!
5. Drink a Butterbeer
There are two main types of Butterbeer for sale at multiple locations in Diagon Alley and Hogsmeade – cold and frozen. The cold Butterbeer is probably most like the Butterbeer that Harry drinks in the books. The frozen Butterbeer is more like a slushy. If you are lucky enough to visit the Wizarding World during the winter, you can try hot Butterbeer!! (Warning: this drink is very sweet, so you may want to share your first one with a traveling partner)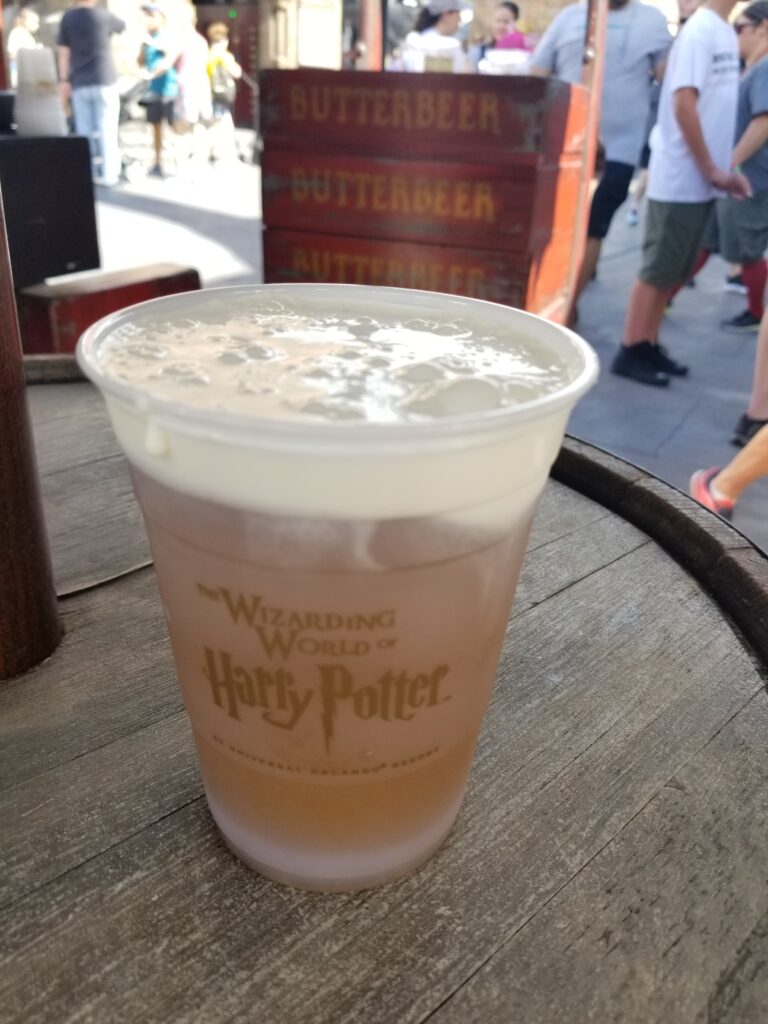 6. Eat at Three Broomsticks or The Leaky Cauldron
You need to eat in at least one of these restaurants, just because!! You'll find more traditional British food versus the typical chicken tenders and fries that you see at many theme park restaurants. While I am not an adventurous eater by any means, I had to eat at least one meal there!
7. Get in the Virtual Line for Hagrid's Magical Creatures Motorbike Adventure
This may be the best ride at Universal Orlando!! Even my oldest daughter, who is most-definitely a muggle, loves this ride!! Due to the popularity of this ride plus social distancing measures put in place after COVID, a virtual line is typically used. You will need to log in to the Universal Orlando app and select "Virtual Line." Follow the directions on entering the virtual line to reserve your return time.
8. Visit the Knight Bus
You will find this triple-decker purple bus in London, near Kings Cross Station. Look in the windows to see the beds and curtains. There's also normally some chatter from the shrunken head talking to the conductor.
9. Shop at Weasleys' Wizard Wheezes and Honeydukes
Although there are many shops in the Wizarding World, two of my favorites are Weasleys' Wizard Wheezes in Diagon Alley and Honeydukes in Hogsmeade. I love the outside of Weasleys' Wizard Wheezes! It's such a fun store! Pick up a chocolate frog or some Bertie Bott's Every Flavour Beans at Honeydukes.
10. Visit Hogsmeade at night
For some reason, I always love theme parks at night! Seeing everything lit up is so beautiful! Depending on when you travel, you may be able to see Nighttime Lights at Hogwarts Castle. This is currently not running due to COVID and the social distancing measures put in place.
**Bonus **
Hop in the telephone booth outside of Kings Cross Station and dial 62442 (MAGIC). This connects you to a witch at the Ministry of Magic!